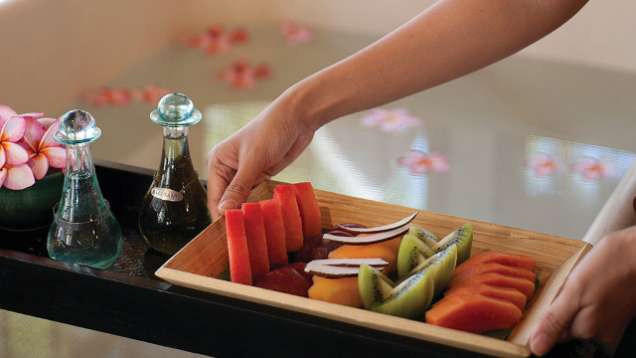 Sink into the restorative bliss of an aromatherapy bath, prepared by your very own Bath Butler in the comfort of your guest room, and discover the synergistic benefits of warm water and pure essential oils. Whether enjoyed as a leisurely morning or afternoon soak or a romantic after-dinner indulgence, bath rituals are available to prolong your spa experience at any prearranged time between 10:00 am and 10:00 pm. Soak in solitude, enjoy as a couple or add to any treatment on the menu for an enhanced spa experience.
Sea Lavender Salt Bath
A soothing, relaxing bath infused with deeply moisturising gigartina flakes, fragrant coastal sea lavender and mineralising sea salts.
Gigartina Beauty Bath
A beauty-boosting bath that hydrates, softens and tones skin. With the purple-hued powder of organic gigartina to restore radiance and undaria to stimulate collagen production.
Super Green Marine Bath
Cleansing and anti-ageing – this therapeutic super soak uses undaria algae and Maldivian sea grass to reduce water retention, hydrate skin, improve circulation, and firm and hydrate at the deepest level.
Please note: Prices and treatments are subject to change without notice. Prices will be subject to 23.2% combined taxes and services charges.