Services & Amenities
Leisure Activities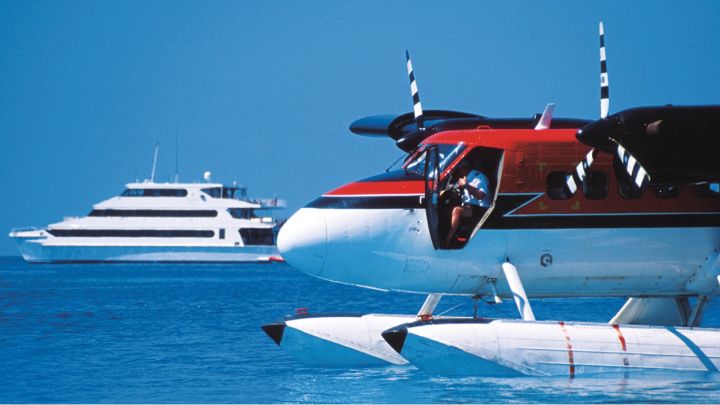 The Resort offers a wide variety of short, half-day and full-day guided excursions, as well as engaging activities such as cooking classes and marine talks.
Imagine spending a day on a deserted, palm-fringed tropical island with family or friends. From Four Seasons Resort Maldives at Kuda Huraa, take a seaplane to a small, postcard-perfect island surrounded by a vibrant coral reef and a shallow, sandy lagoon. As our staff prepares a barbecue, you may snorkel, relax or stroll around the island in total privacy. At the end of the day, the seaplane will fly you back to Kuda Huraa in time for your evening meal.
This cooking class will take you on a short journey through the rich culinary heritage of India and the Maldives. It's fun and casual, and lunch is included.
From 457 metres (1,500 feet) in the air, you will have a whole new perspective on the Maldives. Savour the views of miles and miles of islands, lagoons and calm azure waters during this 20-minute flight, and take advantage of limitless photo opportunities. Seaplanes may be chartered privately.
A private cruiser takes you across the atoll for a picnic on a small island or a sliver of sand, lost in an azure sea – the perfect setting for a romantic celebration or a family day out. Snorkel amongst brilliantly coloured corals, go fishing or simply relax in the shade of your tent.
Hundreds of dolphins live in the waters near Kuda Huraa. Join one of our marine biologists for a short briefing on this fascinating marine animal, then hop on board a speedboat and cruise into the sunset, watching schools of dolphins swimming around you. This excursion takes about 2 hours.
The Maldives' 1,190 islands feature countless sandbanks and reef tops where you can enjoy unlimited land or sea activities – snorkel at isolated reefs, visit traditional Maldivian villages or relax in private on a deserted sandbank.

Our 16.7-metre (55-foot) luxury sports cruiser, Landaa Summer, allows you to island-hop in comfort. Its easy sea access makes for effortless snorkelling or swimming from the back of the boat, while the air-conditioned salon with flat-screen television provides comfortable relaxation in the heat of the day. Set lunches are served on board.
A leisurely jog around the island at dawn or dusk is one of the best ways to view Kuda Huraa's amazing vistas, where the sea meets the sky. Jogging maps are available.