Dining
Dining Experiences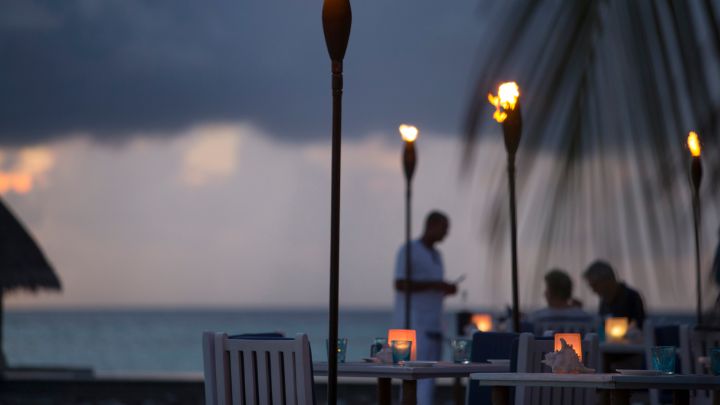 An exceptional menu is always part of Four Seasons dining, but for special occasions, a unique setting can make it even more memorable. Choose from a dreamy dinner under the stars, a meal in a private gazebo perched over the water, a sumptuous beach barbecue, and more.
Pool Island Dinner Under the Stars

Indulge in a private oceanfront dinner on our decked Pool Island, adjacent to the main swimming pool yet perfectly secluded. Savour a menu of your choice in blissful isolation, served by your own dedicated waiter.
Baraabaru Gazebo

Delight in the fresh, authentic flavours of Baraabaru's home-style Indian cuisine from the best table in the house: an isolated torch-lit pavilion for up to four guests, perched directly over the ocean.
Beach Barbecue

Revel in a gourmet feast of buffet and barbecued specialties with your own beach barbecue set up on Kuda Huraa's pristine white sand – ideal for group or family bonding under the stars.
Romantic Beach Dinner

Nowhere says romance like the Maldives. Whether you want to dine by candlelight in a remote island spot or relax beneath a beachside gazebo in front of your villa, we can arrange an unforgettable gourmet beach-dining experience to suit any taste.
Kandu Grill Infinity Table

Savour Kandu Grill's choicest meats, seafood and salads from a privileged "infinity table" at the edge of the main pool, offering unobstructed views across the Indian Ocean to a vast, empty horizon.