The jet lag melted away as I took in my first glance of Maldivian water. On one of the Maldives' 26 atolls, in the middle of the Indian Ocean, I was in an aquamarine world of my own. And with two Four Seasons properties to choose from—Four Seasons Resort Maldives at Kuda Huraa and Four Seasons Resort Maldives at Landaa Giraavaru—as well as one luxury yacht, Four Seasons Explorer, I knew this was going to be an extraordinary week in paradise.
Here, I relive 10 of my favourite adventures, indulgences and magical Maldivian moments.
Unique water sports: Seabob and X-JetBlades
If you're a fan of water sports, you've undoubtedly tried your hand at kayaking, snorkelling and jet-skiing. Allow me to introduce you to a new level of fun for water enthusiasts—Seabobbing.
If you're up for going under, take the plunge with the Seabob water sled: a personal submarine–meets–waterproof scooter that allows you to move as gracefully as a dolphin beneath the surface. Wearing a mask to protect my eyes and nose from salt water, I pressed the throttle, tilted the Seabob downward and headed below the surface, moving easily for as long as I could hold my breath.
Fellow aquatic adventurers should also try X-JetBlades, an under-the-foot hydro-thrust flight system. It's hard to beat flying over the water with full freedom of movement. I was able to ascend and descend, bend my knees and do full circles with the thrust of water controlled by a nearby jet ski. To dismount, you simply dive into the water. Four Seasons Kuda Huraa offers both activities—perfect additions to any family vacation or active honeymoon.
Spectacular sunsets on the Indian Ocean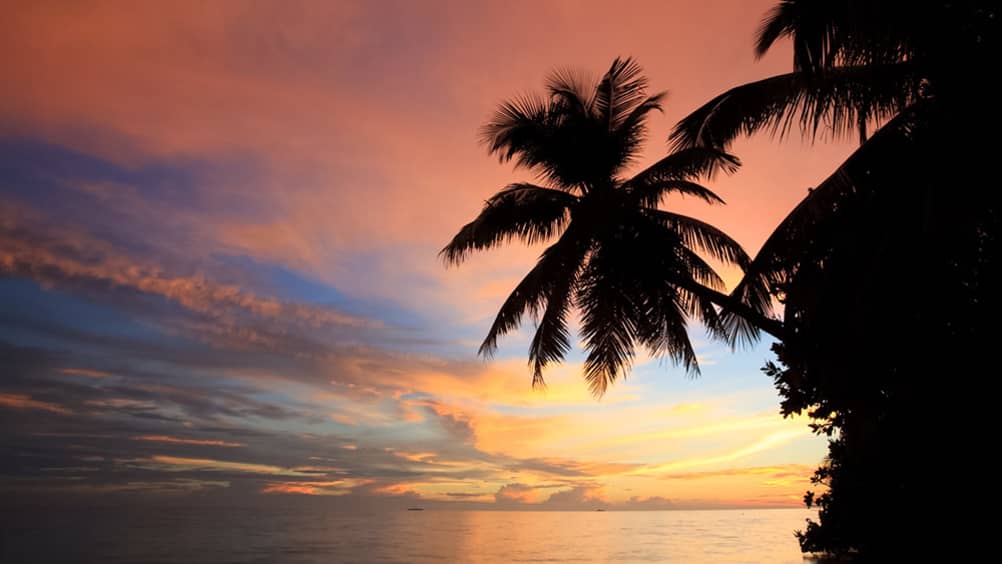 Photography Matteo Colombo
A sunset may be a routine occurrence every 24 hours around the world, but a Maldivian sunset is anything but ordinary. Daytime in this tropical paradise brings out half of the colour wheel with the greens of palm trees and blues of the ocean. But when the lights go down on the islands, the other half of the spectrum comes alive with vibrant oranges, yellows and fiery reds.
Many visitors indulge by taking a dolphin-watching sunset cruise or lounging on a beach chair to take in the golden hour, but I chose to take a more active approach.
As the sun was setting on my final day in the Maldives, the most spectacular sunset I'd ever seen materialised before my eyes. The fading light made for stunning photos, but once the yellow hues began to mix into the soft blue sky, the race against time started. I knew immediately that this was going to be a sunset for the books. I ran from one part of the island to the other to catch the rapidly changing colours with my camera. This wasn't the most relaxing sunset I've ever witnessed, but it was the most exciting.
World-class diving and sea life
Under the sea with the diving staff at Four Seasons Resort Maldives at Kuda Huraa, I witnessed dazzling coral walls, schools of tropical fish and huge manta rays. The clear waters allow for amazing visibility, but the best part is that the water is so warm you can leave the pesky wetsuit behind.
I was scheduled for a turtle safari during my first day at the Resort. I boarded the boat, a little disappointed that I hadn't also scheduled a scuba diving trip. Within seconds of voicing my concern to the Resort staff, I was signed up for a diving session. After the amazing turtle safari, I set out to explore the deep.
It was a good thing my scuba buddy, Goose, knew the ropes. I always need a refresher course when I dive—safety is the first priority. The session rivalled diving (with a wetsuit) in the Galápagos. In the Maldives, you're guaranteed to spot incredible sea life. Luckily, the staff double as photographers during the dive, flipping around with a GoPro to capture once-in-a-lifetime moments.
Tip: Whale sharks are year-round residents of the Maldives, but head to the Ari and Baa atolls for the best chances to view these beautiful creatures. This is screen-saver scenery you'll want to take home with you, so bring a waterproof camera.
Excellent surfing for all abilities
The farther you travel into the middle of nowhere, the less likely you'll be jostling for prime wave space. Near the equator in the middle of the Indian Ocean, the Maldives are a surfer's paradise.
The atolls offer what every surfer craves: year-round sunshine and monsoonal, rather than seasonal, weather—storms from afar bring more wind and swell, which helps surfers catch perfectly groomed waves.
Head over to Laamu Atoll for the Yin Yang break, the most consistent wave in the region. A small and exposed atoll brings strong swells with thick barrels and a powerful inside section known to be punishing. When Yin Yang is "going off," it's a serious wave that can push surfers into a dangerous reef, so it's best navigated by experienced surfers. Beginners (like me) should start out on the gentle waves near the Resort.
White-sand beaches
You know the picture-perfect coastline that comes to mind when you dream of escaping a crazy work week? Those images of deserted white-sand shores framing turquoise waters come to life in the Maldives. After a morning of sunrise yoga overlooking the ocean, I traded savasana for sunbathing.
The Maldives can be quite warm. Luckily, attentive Four Seasons staff came around every hour with a refreshing treat such as iced coffee shots or popsicles made with local fruits. But I was thirsty for more. Seeing low-hanging coconuts on a palm tree awakened my inner child, so I scampered up a palm trunk to pluck one. There's nothing better than a coconut on the white sands of the Maldives, especially a self-harvested one.
From my lofty perch, it was easy to get lost looking at the water—I've never seen anything like its myriad colours. And I could see the white sand stretch for miles before ending with the ocean. In this paradise, there's plenty of beach to lounge on while living the island life.
Vibrant Maldivian culture
It's important to see a destination as a traveller rather than as a tourist. Wherever I go, I try to seek out the most authentic sights and befriend the locals. The Maldivian culture is vibrant, diverse and colourful.
I was fortunate that a beach stroll one evening coincided with a lively party where a group was doing the bodu beru, the Maldivian's most popular folk dance. After I captured the moment on film, I got in on the action. Learning the dance is all about finding your own rhythm to the music and having a great time. I couldn't stop laughing or smiling—a great memory from the Maldives.
There are many other ways to get in touch with authentic Maldivian culture during your stay. Take a tour of the capital—Malé—or ride in a dhoni, a traditional boat. Take a stab at some key phrases in the regional language, Dhivehi. The three phrases I use most are "hello," assalaamu alaikum; "thank you," shukuriyaa; and "I need Wi-Fi," Aharen beynun Wi-Fi. Such is the life of a travel blogger.
A secluded, romantic getaway
Photography courtesy Four Seasons Hotels and Resorts
Calling all honeymooners: If you're looking for a bit of secluded luxury and a lot of romance, this is the thatched-roof–hideaway of your dreams. Having already travelled into the middle of the ocean, I went a step further and booked a private bungalow on the water. Perched on stilts above turquoise lagoons, these overwater bungalows offer a very private slice of paradise. What's more romantic than starting the day surrounded by crystal-clear waters where colourful reefs await at the bottom of your ladder? And nothing is better for igniting a spark than outdoor showers perfect for two set to the gentle sound of surrounding waves.
I was able to experience a completely secluded private island where romance could never run dry. Couples are able to dine here underneath the stars or enjoy a picnic for two alongside the aquamarine lagoon in picture-postcard perfection. Although I wasn't on a honeymoon trip, I'd love to return and experience this level of beachside romance.
Freshly caught culinary delights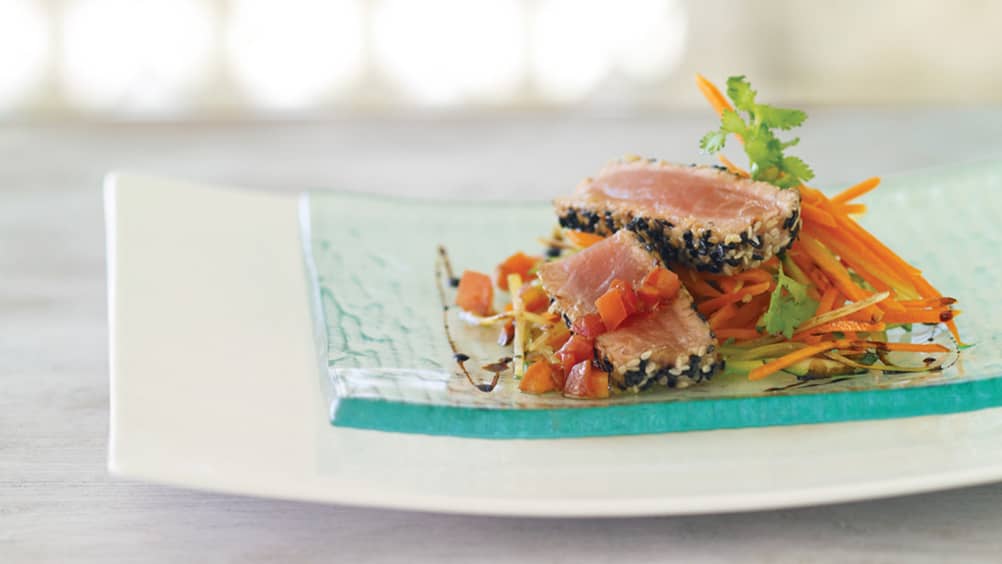 Photography courtesy Four Seasons Hotels and Resorts
Traditional Maldivian cuisine is based on fresh fish from the ocean and coconuts from the national tree. Influences from neighbouring countries of India and Sri Lanka can be tasted in the curries, and various spices are added to the already flavourful dishes.
I suggest trying garudhiya, a fish soup served with rice, lime, chilli, onions and curry leaves.
Luxurious aquatic transportation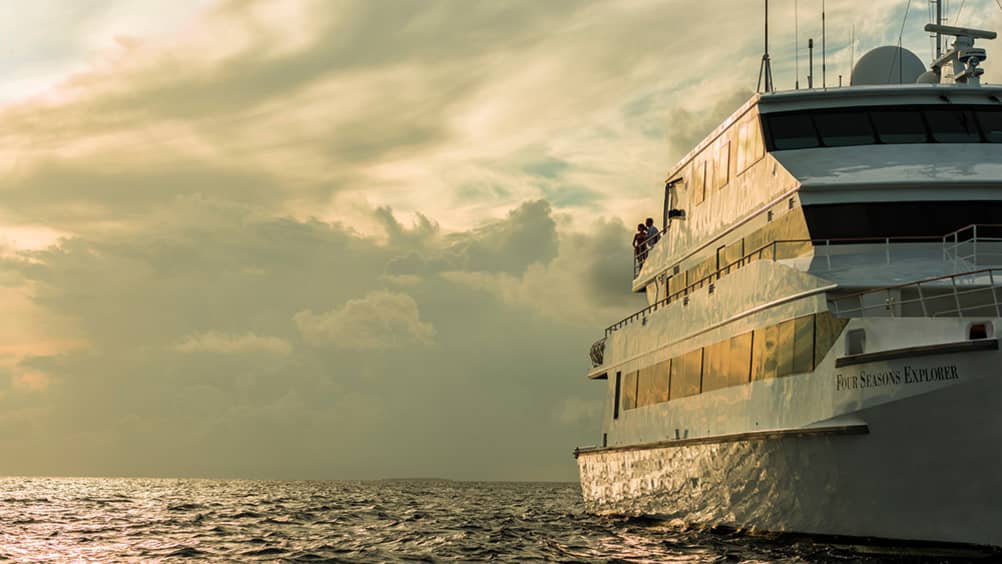 Photography courtesy Four Seasons Hotels and Resorts
I was more than happy to leave the yellow cabs behind for some exotic and luxurious Maldivian modes of transportation, ranging from seaplanes to ferries. The Resort sent a speedboat to transport me from the airport to the island. I was delighted to see the sign on the boat that read "Free Wi-Fi": a life-saving amenity for many.
Later, I enjoyed a trip by dhoni, the old-world sailboat that all locals know and love, to the Island Spa of Four Seasons Resort Maldives at Kuda Huraa. As the name implies, the only way to and from it is by boat.
Head out for a tour to discover the area's famous spinner dolphins, or stretch your sea legs aboard Four Seasons Explorer—the destination's luxurious live-aboard yacht—for a look at multiple islands. If you're in the mood for adventure, embark on a seven-night group research odyssey to observe the Maldives' most exciting residents—manta rays and whale sharks—in action.
Sensational spa experiences
Photography courtesy Four Seasons Hotels and Resorts
A spa treatment at the Island Spa at Four Seasons Resort Maldives at Kuda Huraa is divine for the senses. The treatment rooms' transparent floor panels look deep into the ocean. Not only did I view incredible sea life during my signature massage, but I also heard the sound of the waves lapping nearby.
I felt the tension melt away during the practice of full-body healing techniques, and I tasted relaxation while sipping on ginger tea during an invigorating foot massage.
Four Seasons Maldives Four Seasons Explorer