There is a certain kind of glamour that comes with living at a hotel. Playwrights, musicians, business magnates, socialites and Hollywood icons have all been drawn to it, and with good reason. It's an enviable, service-rich lifestyle where everything is taken care of for you, leaving you free to focus on what's important.
But what if you could live at a hotel without actually living at a hotel? From a historic address in London's Mayfair to a high-end oasis tucked away in Beverly Hills,
Four Seasons Private Residences are expanding their portfolio to include one-of-a-kind, standalone properties that offer the kind of lifestyle you expect at Four Seasons paired with an added level of privacy and exclusivity.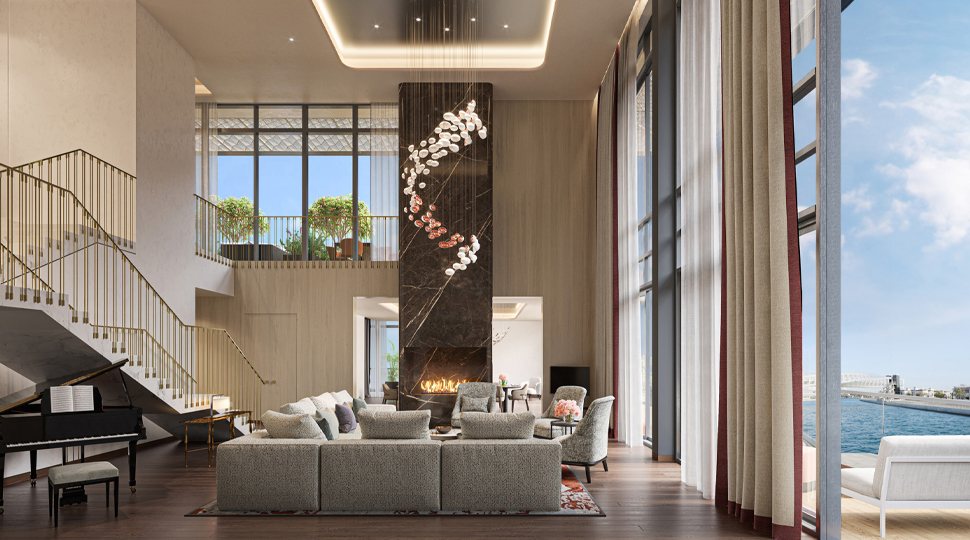 Luxury branded residences are a growing real estate trend that more people are looking into as a desirable option for their second or even primary homes. As a leader in this space since the 1980s, Four Seasons has already defined what a branded private residence can be. And with this foray into standalone residential properties in London, Los Angeles, San Francisco, Austin, Dubai and Marrakech, they're redefining what a private home can be.
Even as standalone private residences – meaning there is no hotel or resort attached directly to the property, though many are near hotels – these residences feature Four Seasons–trained staff members to assist with residents' everyday needs. At Four Seasons Private Residences Los Angeles, a fully operating kitchen is open five days a week. Residents can dine in the lounge or by the pool or have food delivered right to their doorstep. In fact, all residential properties feature in-room dining services that make planning a dinner party or a special family meal all the easier.
The entire experience is tailor-made for residents, taking into account individual preferences and the kind of bespoke residential lifestyle people are looking for no matter where they live. Because the standalone properties are managed and operated solely for homeowners, Four Seasons can deliver the ultimate level of privacy and exclusivity – a highly sought-after feature for any luxury real estate buyer. This separation also allows the units themselves to reflect the requirements of the individual owners, unrestricted by any other existing property.
The trifecta of privacy, concierge-level service at home and reliance on Four Seasons to expertly manage the residence while homeowners are away transforms turnkey properties into a turnkey lifestyle.
Everything right here, right now
Standalone private residences allow owners to enjoy all the amenities of a hotel – and with Four Seasons, that means you're getting the best.
Twenty Grosvenor Square, A Four Seasons Residence in London, for example, boasts a wine cellar, a spa and fitness centre, a 25-metre pool, a private movie theatre, a children's playroom, and a library overlooking the garden. The first Four Seasons property completely dedicated to luxury residential living, it opened in 2019 in the heart of fashionable Mayfair at an already iconic address. The fact that it came with Four Seasons service made its apartments some of the most sought-after in London.
"These apartment owners don't have to do anything – we'll do their shopping, collect their dry cleaning, bring up the right car from their collection. That kind of service is invaluable to someone who's short on time," said Paul White, Senior Vice President, Residential Development, Marketing and Sales at Four Seasons Hotels and Resorts, to Luxury London.
Knowing that wellness is also high on the list of priorities for luxury buyers, one thing that each standalone property features is a state-of-the-art fitness centre. The one in Los Angeles is designed by renowned celebrity trainer Harley Pasternak, while the health and wellness building at the upcoming Four Seasons Private Residences Lake Austin features thermal pools, a spa, an athletic centre, private spaces for yoga and meditation, and a full-length indoor pool dubbed The Orangerie. Paying homage to Renaissance winter gardens, the pool sits surrounded by lush greenery no matter the season.
Privacy that doesn't sacrifice location
For ultra-high-net-worth buyers, privacy is paramount. "A standalone residence is more exclusive," says James Carter, Director of Residences at the Los Angeles property. "It doesn't have a transient element. It feels safer and more private."
But as the saying goes in real estate, location is everything. Because the brand stays on the pulse of where people want to live, work and play, you'll find these residences located in key gateway cities around the globe. Take the new Four Seasons Private Residences Dubai at Jumeirah, home to 28 luxury apartments and villas. The residences all feature expansive private outdoor terraces that look directly onto the Dubai Water Canal. This exclusive waterfront location and Dubai's already hot real estate market were clearly appealing, as the property sold out within three months of launch.
Knowing where buyers want to be is half the job. The other half is finding the right neighbourhood. In cosmopolitan cities like Marrakech and San Francisco,
Four Seasons has taken advantage of their hotel presence close to the central Medina and the Yerba Buena district, respectively. Both standalone private residences are located within walking distance of a Four Seasons hotel but are distinctly their own. In Marrakech, Four Seasons Private Residences Marrakech at M Avenue is set in the heart of a vibrant new community where owners can step out their door and find high-end shopping, restaurants, art galleries and more. Each residence is set above street level, offering a peaceful rooftop retreat for getting away from it all.
On the coast of California, Four Seasons Private Residences at 706 Mission, San Francisco, rises high above the city skyline in fashionable Yerba Buena, comprising two buildings – one a meticulously restored Aronson building and the other a sculptural modern tower. Residents at 706 Mission will have the Museum of Modern Art and the Yerba Buena Center for the Arts as neighbours outside, while a breadth of choices inside, including an expansive game room and a fully staffed residents club, help build community inside.
If you've ever wished you could live at Four Seasons, you're not alone. A Four Seasons home means you have a dedicated team on call, ready to take care of making a reservation for dinner, home maintenance, housekeeping, culinary requests or staying on top of security. It's worry-free homeownership at its most intuitive, ensuring complete peace of mind behind the scenes while providing exceptional service whenever you need it. Four Seasons standalone properties take everything you love about living with Four Seasons and help you create a personalized and curated lifestyle.
See what it's like to live with Four Seasons