The words "family-friendly" and "Macau" didn't used to belong in the same sentence. There's no getting around that visitors flock to the city – located on the coast of China's Guangdong province – with hopes of winning big. It's the only place in China with legalized gambling, and the casinos are busy raking in significantly more revenue than Las Vegas. In fact, the Cotai Strip is a major land reclamation project, joining Macau's two islands of Coloane ("Co") and Taipa ("tai"), specifically designed for big-name casinos who would like a piece of the action.
Casinos aside, Macau is the only place in the world to experience a seamless mix of Chinese and Portuguese culture. Its history as a Portuguese settlement and important trade port – only handed back to China in 1999 – is responsible for creating cuisine that blends China, the Mediterranean, Africa and Southeast Asia together. Not to mention the colourful Colonial architecture seen in certain spots that almost makes you forget you're in China. With Four Seasons Hotel Macao, Cotai Strip as your base, you and the kids will have an excellent time exploring this unique city.
Why go
Photography Adam Lee MY / Thinkstock
Eat like a local. There's a long list of must-eat, flavourful dishes, from egg tarts to pork chop buns. People in the know queue up at Macanese bakeries and tote armfuls of goodies home on ferries and planes. There's plenty of good Portuguese wine, too.
Fun within walking distance. City of Dreams, located just across the street from Four Seasons, is an entertainment complex with three hotels, two theatres, shops and plenty to look at.
The entertainment. Have the Concierge assist with booking tickets to The House of Dancing Water. The Sands Cotai Central offers a Shrekfest Character Breakfast and a daily DreamWorks character parade, while The Venetian is steps away.
The Hotel. Though plenty of casinos are nearby, Four Seasons is a non-gaming oasis from the bright lights and crowds.
The pampering. With all of the comforts of home, kids' menus and outdoor swimming pools, the Hotel is very popular for weekend family getaways. Guests can also explore Macau through the Hotel's hired cars, which is ideal because taxis can be a bit hard to come by outside of major areas and do not have seat belts.
The location. Just an hour by ferry from Hong Kong, Macau is an easy and inexpensive getaway. Tip: Upgrade your ferry ticket to first class since disembarking in front of the crowd equals a shorter queue at customs. Four Seasons can send a driver to collect you at the ferry terminal. Don't make the mistake of making Macau just a day trip – you'll have a better appreciation for the area by allowing enough time to eat and explore.
What the kids will love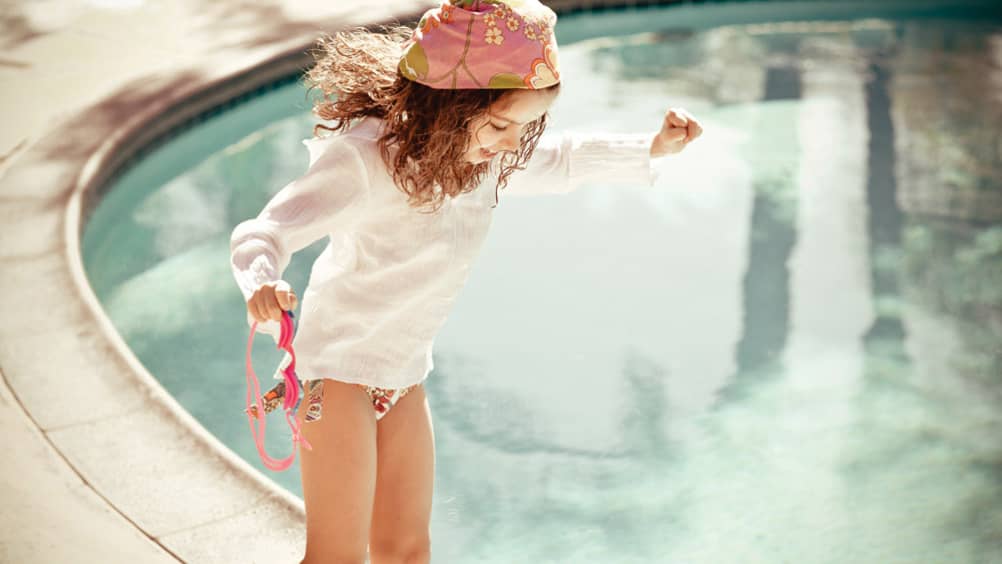 Photography courtesy Four Seasons Hotels and Resorts
Five swimming pools. Some are perfect for swimming laps, some are wading pools for young kids, and there's a big one in the back of the Resort surrounded by lush foliage. Bounce from one to the other since they're all fairly close. (Enjoying poolside drinks in a shaded cabana makes for a day well spent.)
Amenities just for them. The excitement of a pink pop-up tent, Barbie toothpaste, a care package with sunscreen and treats will win young girls over immediately.
Indoor play gyms. Bounce, slide, climb and play video games at Qube inside The Venetian. The facility is large, with state-of-the-art equipment, and it gets rave reviews from tourists and locals alike.
The gondola. The Venetian has three canals, versus just one in the Las Vegas location, and gondoliers that sing in both Mandarin and Italian.
Black-sand beaches. Hac Sa Beach on Coloane Island is one of the best on Macau. The sand is naturally black, though mixed with yellow sand as a preservation method. Picnic areas, beach bars, a children's play area, water sports facilities and even badminton courts make this a popular attraction when the sun shines.
What you will love
Macanese food. Here are a handful of dishes to look out for: egg tarts, minchi (minced beef over rice), Macanese pork chop, caldo verde (Portuguese potato soup), serradura pudding (sawdust pudding) and Piri Piri (chilli) chicken. Regional snack food favourites are cheap and plentiful, including pork or beef jerky, almond cookies, pork chop buns and steamed milk pudding.
The Spa. The signature Organic Garden treatment envelops the body with the balanced and nourishing essences of rose and jasmine, while massages blend Asian and European techniques.
Shopping. Shoppes at Four Seasons is Macau's largest luxury mall and blends into the shops inside The Venetian. Study a map from the Concierge before stepping inside; there is a lot to choose from, including high-end Chinese designers such as Shiatzy Chen and Shanghai Tang.
Gambling. Even if betting on red isn't your thing, it's what Macau is famous for. The Venetian next door to the Hotel has the largest casino floor in the world. Step inside to say you've been there and note the differences – gambling is serious business here, sans the free-flowing drinks and casual party attitude of Las Vegas (which actually makes wandering the non-casino areas of these hotels a lot more family-friendly).
Dine in
Belcanção: Open for breakfast, lunch, dinner and weekend brunch, it features international cuisine with an Asian emphasis. Be sure to try the breakfast buffet. Chinese noodles? Pancakes with multiple toppings? Japanese food? They've got it all. Splurge and taste the egg tarts (yes, for breakfast).
Zi Yat Heen: Go for dim sum, Cantonese favourites and fresh seafood in a relaxed, yet elegant restaurant. Kids are more than welcome, though reservations are encouraged.
Windows Lounge: When the kids get hungry at an odd hour of the day, stop in here for a casual bite or afternoon tea. Casual dining by the pool at Splash is also an option (closed in the winter).
Dine out
Lord Stow's Bakery: Andrew Stow is credited with creating the egg tart craze that continues to thrive all over Macau and Hong Kong, luckily, there's a Lord Stow's Bakery located inside The Venetian, near one of the canals. Go early and prepare to wait a bit. These egg tarts have a flaky crust, two eggs each and are worth every gram of fat.
Tai Lei Loi Kei: Give your kids a digital device while waiting in line at this eatery, one of the best places to sample Macanese pork bun. There's now an outlet in The Venetian, and it's worth the wait.
Restaurante Fernando: Located on Hac Sa Beach on Coloane Island, this famous rustic restaurant has been serving up Portuguese cuisine for more than 15 years. They do not take reservations, but that's usually not a problem since it's away from the main drag. Order the sangria and roast suckling pig. Or, Fernando himself will happily recommend a Portuguese wine, if that's more your speed.
5 family to-dos
1. The Venetian Macao. Visit the famous Lord Stow's Bakery for an egg tart snack before riding the gondola and going shopping. Qube, the massive indoor play area, is also near one of the gondola canals. Entertainers randomly cruise the corridors, too.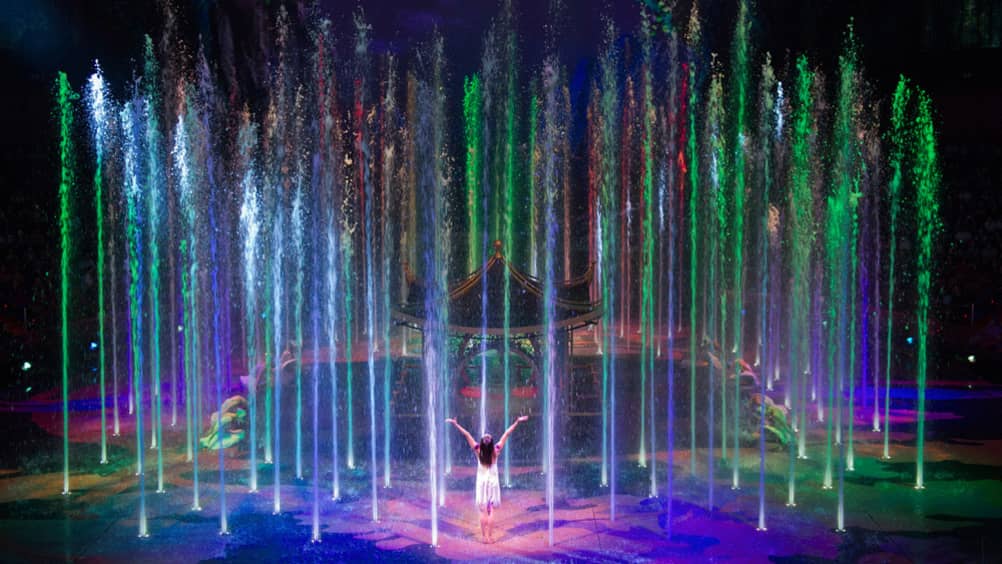 Photography courtesy The House of Dancing Water
A whopping USD 250 million went into creating The House of Dancing Water, at City of Dreams, and its intimate, one-of-a-kind theatre, where the stage converts from a deep pool (holding 3.7 million gallons of water) into a waterless floor within seconds. Adults will love the acrobats, water hydraulics, motorcycle stunts and costumes as much as the kids do.
2. Historic Centre of Macao. Get dropped off at Senado Square to start exploring this UNESCO World Heritage site. Built in 1602, the intricately carved façade, known as the Ruins of St. Paul's Cathedral, is Macau's most famous landmark.
3. Peruse the food vendors. All the famous bakeries are here. Browse the souvenir shops while catching a glimpse of Macau's Portuguese heritage. Koi Kei (locations all over Macau) is famous for peanut candies and Phoenix Rolls, which look like crepes wrapped in seaweed with pork inside. Load up on almond cookies at Choi Heong Yuen Bakery.
4. Macau Tower. Mom or dad may want to consider daring the highest bungee jump in the world, but kids of any age – as long as they fit inside the harness – can Skywalk around the edge of the 1,109-foot (338-metre) tall Macau Tower. Round out the adventure by taking photos on the outdoor observation deck and digging into the buffet with a view from the revolving restaurant.
5. Old Taipa Village. Escape the casinos and journey to one of the only traditional villages remaining in Macau. The Taipa Houses-Museum is comprised of restored colonial homes showing how Portuguese families lived in the early 1900s. It's quieter over here, with pedestrian-only alleys and small shops and restaurants. Look for the cheery yellow, green and blue colonial architecture and Our Lady of Carmel church. When people complain about missing culture in Macau, it's probably because they've skipped coming here!
Four Seasons Hotel Macao Cotai Strip