SPA
Visiting Practitioners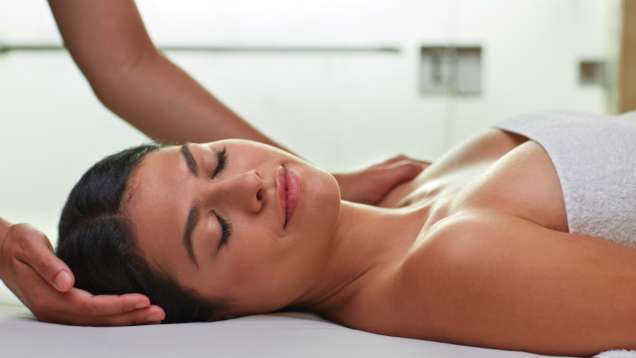 Four Seasons Hotel Los Angeles at Beverly Hills is dedicated to providing the best spa experiences. Enjoy therapeutic treatments from our visiting practitioners, who are experts in their fields and an excellent temporary addition to our spa offerings.
Dr. Nigma Talib

Dr. Nigma Talib is a licensed Naturopathic doctor and author of the best-selling book Younger Skin Starts in the Gut. She received the Princeton Global award for being the best in her profession as well as accolades by Vanity Fair and W magazine.

Nigma has specialized facial treatments that incorporate her unique patented light water infused with plant stem cells, antioxidants, botanicals and jellyfish collagen formulas to give the latest and most cutting edge results.



Initial Consultation (70 minute): USD 500
Dr. Nigma Face Treatment: (70 min) includes brief consultation: USD 600
Non Surgical Face Treatment and Naturopathic Colsult: USD 850
Follow Up Appointments: rates vary depending on time requirements and complexity
Follow Up Appointment – Standard (30–45 min): USD 250
Microneedling with PRP – USD 1250


Please book here.
Martha Soffer

Martha Soffer is an internationally acclaimed Ayurvedic Panchakarma expert, Ayurvedic Chef, Master Ayurvedic Pulse diagnostician. Working with her accomplished team of therapists at the renowned Surya Spa, Martha brings longterm balance and health to clients that range from next-door neighbors to the top stars of film, entertainment and music, as well as a number of Mid-East royal families. A frequent guest on CBS' talk show "The Doctors," Martha and Surya have also been lauded in press such as the L.A. Times, New York Magazine, Goop, In Style, Allure and many others, including Angeleno, who recently listed her as one of L.A.'s few Super-Healers. Starting on the first day of summer, June 20th, 2017, Martha and the therapists of Surya bring two weeks of Surya's best treatments to the Four Seasons. Restore and rejuvenate with Surya's fully immersive 1-Week Panchakarma Series, or enjoy profound morning and evening Ayurvedic experiences, all transformative and lasting.



• AYURVEDIC CONSULTATIONS WITH MARTHA (90 minutes): USD 425
• TOTAL TRANSFORMATION // 1-Week Panchakarma Series (4 hours/day, 9:30 or 1:30): USD 5,500
• RADIANT ENERGY // Udvartana (90 minutes, 7:30 am): USD 375
• EMOTIONAL COOLING // Pinda Swedana (90 minutes, 7:30 am): USD 375
• ELEVATED VITALITY // Nasya (90 minutes, 7:30 am): USD 375
• NOURISH & RESTORE // Abhyanga + Shirodhara (90 minutes, 7:30 am and 6:30 pm): USD 375
• LIGHT & BLISS // Abhyanga + Chakra Light Balancing (90 minutes, 7:30 pm and 6:30 pm): USD 375
• DEEP LOVE & DEEP SLEEP / Marmas + Dharas + Pichus (90 minutes, 6:30 pm): USD 375

For more information and to book, please call Surya Spa at 310–459–7715 or email info@suryaspa.com
Shaylini Reiki

Clear your Mind. Balance your Body. Heal your Soul. Find your Truth. Love and embrace your Sacred Self

Shaylini is a talented and gifted world renowned Reiki Master and Energy Healer with a celebrity and worldwide clientelle.

Through her deeply intuitive healing approach, Shaylini guides and supports her clients to release emotional, mental and physical pain and imbalances, supporting a shift in energy that leads to clarity and balance of body, mind and soul. Shaylini embraces a heart-centred approach to provide a unique experience of deep healing which creates space for letting go of what doesn't serve you, aligning you to your true potential, achieving ultimate inner peace and abundant self-love. Through Reiki healing, Chakra balancing, Energy healing therapies and Guided Meditations, Shaylini works to enable you to experience freedom from any pains, blockages and imbalances. Through the healing power of Reiki, you will naturally experience an alchemical shift in energy leading to peace, joy and freedom. We invite you to experience a truly transformative experience at the healing hands of Shaylini.

Treatment List:

Deeply Intuitive Reiki Healing - 60mins, 500USD 90mins, 750USD

Complimentary Initial Consultation

Chakra Balancing - 60mins, 500USD 90min, 750USD
Complimentary Initial Consultation

Deep Emotional Healing and Cleansing 60mins, 800USD 90mins, 1150USD
Complimentary Initial Consultation

Guided Meditation - 4o mins, 400USD

Please call (310) 786-2229 to book.
Susan Hepburn

Susan Hepburn is an accredited Psychotherapist, Hypnotherapist and World Leading authority on weight loss, eating disorders and addictions, working mainly between the States, Europe and London's Harley Street for the past 30 years. Hepburn is renowned for her discreet service and no-nonsense approach, mixed with immense empathy, understanding and phenomenal perception and achieves instant results. She works with children, A-listers, Hollywood stars, professional footballers, Corporates and more.

Her passion and dedication has always been in helping others to succeed and overcome any fears, doubts and obstacles they face… and this is evident from the moment you meet her. Susan makes you feel very special, relaxed and listens intently to what you have to say, then spins it around so you have amazing results.

CONSULTATIONS

Consultations - excluding addictions. (60 minutes) USD 575

Consultations - Children aged 6 - 15 years. (60 mins) USD 345

Follow Up Appointments - rates vary depending on the treatment required.

ADDICTIONS (Require one session only):

Quit Smoking (60 min) USD 675

Quit or Moderate Alcohol (60 min) USD 675

Quit or Moderate Cocaine (60 min) USD 675

All other addictions (60 min) USD 675

Please call (310) 786-2229 to book.

email: susan@susanhepburnclinics.com