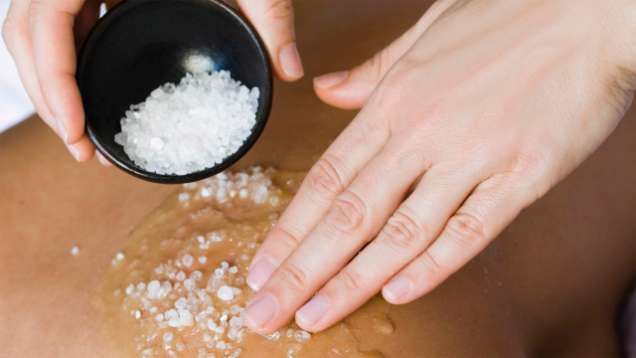 Body Therapies
Body Renewals
A full-body exfoliation with your choice of Himalayan salt scrubs by ila. Choose between detoxifying Marine Flora, revitalizing Pearl and Jasmine or the deeply relaxing Bliss scrub. This treatment concludes with an application of hydrating cream, leaving the skin soft, silky and glowing.
Rose and Aloe Sun Cooler Wrap
This full-body ila experience refreshes and replenishes sun-damaged or overheated skin. After a soothing mist of rose hydrolat, a cooling massage with Rose Body Balm and quartz crystals calms and soothes sunburn or sensitivity. A rose and aloe vera gel wrap is gently applied, while rose quartz crystals, placed upon facial meridians, restore balance and strength.
Marine Flora Wrap
This ila treatment is excellent for reducing cellulite and improving skin texture and hydration. A nutrient-rich marine flora and Himalayan salt scrub – to cleanse and re-energize the bio-magnetic field and lymphatic system – is enhanced by the addition of a seaweed wrap. Bio–plasma increases the metabolic function of skin cells, aiding regeneration, while omega plankton improves epidermal hydration and cellular structure.
Pearl and Jasmine Scrub with Amethyst Wrap
This revitalizing Pearl and Jasmine Himalayan salt crystal scrub by ila has the immediate effect of restoring vitality and energy levels, mental clarity, well-being and strength. The ensuing amethyst gel body wrap relaxes and balances the nervous system, stimulating circulation, regeneration of skin cells and cell growth.
Inner Peace Immersion
A blissfully balancing experience by ila that restores positive energy, reviving both body and spirit, resulting in a profound feeling of calm. A renewing all-over scrub prepares the body for a deeply nourishing Inner Peace massage, with rose to restore emotional balance, jasmine to calm the nervous system and sandalwood to hydrate and heal. This treatment concludes with a Shirodhara, which involves the pouring of a slow, steady stream of warm herbal oil onto the forehead's 'third eye' chakra, followed by a gentle scalp massage. This treatment will leave you feeling with sense of inner stillness and equilibrium from head to toe.
Honey Dream Treatment
This unique treatment by Pino incorporates a full-body rhythmic massage performed using warm, natural honey, which has an adhesive effect, creating a uniquely exfoliating and deeply relaxing myofascial massage experience.
Alternative Therapy
Biomeditation Therapy
Increase your vitality, well-being and creativity with this gentle yet profoundly healing hands-on therapy. Bioenergetic Meditation will nurture, detoxify and balance you on all levels as deep energetic blockages are removed and self-healing is stimulated. This specialized process begins working wherever your body needs help and in a manner that best suits individual healing. Experience dream-like relaxation as different forms of conscious and unconscious anxiety are removed. Liberate yourself with this unique energetic therapy.
Note: Prices and treatments are subject to change without notice.