Meetings & Events
Conference Planning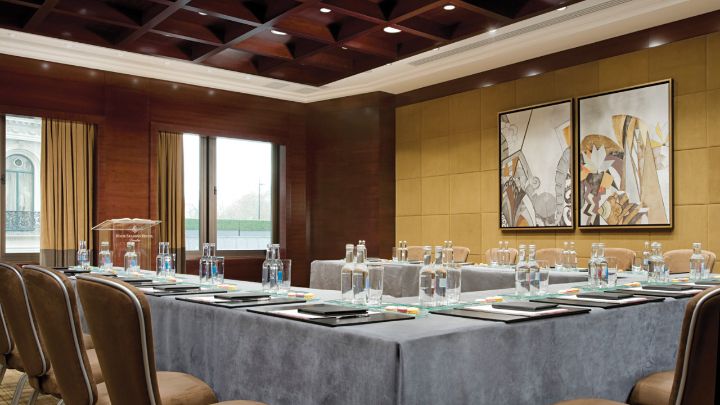 The Ballroom can accommodate up to 500 guests for receptions, with a number of breakout and function rooms located on the same level. Our Boardroom can be used for smaller board meetings of up to 10 guests.
Technical assistance
Lecterns with light and sound control

Overhead projectors, LCD colour display panel, slide projectors, video players

Microphones, mixers, amplifiers

Stands, carts, easels, flipcharts, laser pointer, speaker timer

Personal computers and peripherals can be organized

Wired or wireless high-speed email and Internet access in meeting rooms
Music and entertainment
Our conference service manager will be happy to assist with setting up any type of music or entertainment for your meeting.
Receiving and maintenance
Receiving dock
Please contact the receiving department or your conference service manager to arrange the delivery of oversized packages or environmentally sensitive equipment.

Post-conference shipping
Shipping of post-conference materials may be coordinated through your conference service manager.

Maintenance
The engineering department is available 24 hours a day for general assistance with lighting, room-temperature control and minor repairs.

Destination management companies
Allied Europe Ltd
Hatton Road
Bedfont Heathrow
Middlesex
44 (0) 20 8844-4000
Welcome amenities and VIP gifts
Special arrangements can be made for clients to purchase welcome amenities for their VIP guests. Your conference service manager will be happy to assist with these arrangements.
Spouse/Family programs
The Hotel offers many activities to interest the spouses of meeting participants, including:
Welcome orientation and city tour

City tour with afternoon tea

Tour of the Royal Palaces

Cruise on the River Thames

Visits to Oxford or Cambridge

Fashion shows

Wine tastings

Make-up and skin-care presentations

Cooking demonstrations with the Chef

Guest speakers on nutrition, art and etiquette
We are pleased to help arrange appropriate activities for visiting families.
Discover flexible spaces that adapt perfectly to your meeting goals, along with technology that accommodates the most demanding presentation and communication requirements. Experienced Four Seasons support is on site to promptly respond to every need.
Quick Reference
Time zone
GMT
Language(s) spoken
English
Electrical system
Local voltage is 110 to 240 volts AC. Adapters available; please request through the Concierge.
Shopping hours
Daily 9:00 am to 5:30 pm
Working hours
Monday to Friday 9:00 am to 5:30 pm