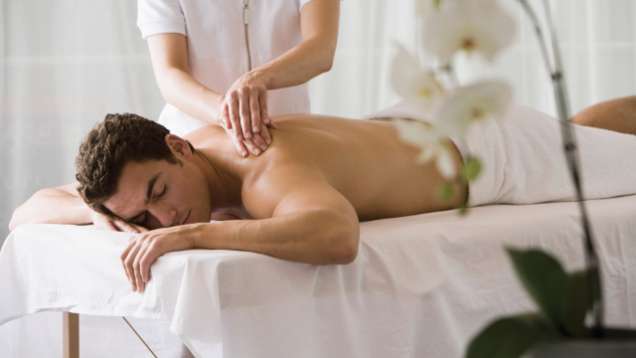 ESSENTIAL MEN'S PACKAGE
This is the perfect retreat for any man who wants to feel at his best. Be completely pampered by a revitalizing massage and a facial treatment designed specifically for male skin. The result will be improved, rested and hydrated skin and a feeling of increased well-being.
120 Minutes - 260 EUR
120 Minutes
EUR 260
Call (351) 21 384-3005
REVIVING MASSAGE
A head-to-toe deep tissue massage designed to re-energize, harmonize and relax your body and mind, this treatment incorporates traditional ancient Asian techniques, deep flowing massage movements, gentle stretching, acupressure points and meridian line balancing.
50 Minutes - 155 EUR
80 Minutes - 200 EUR
50 - 80 Minutes
EUR 155 - 200
Call (351) 21 384-3005
SKIN KARMA MEN'S FACIAL
Specially designed to treat male skin, this treatment begins with a relaxing salt therapy back massage to ease stress and reduce tension in the mind and body. Next, a deep-cleansing and exfoliating facial balances the skin's natural oils. Sodashi's natural ingredients will desensitize your skin, and a facial massage will tone and firm your muscles, leaving you with a fresh and revitalized face.
80 Minutes - 200 EUR
50 Minutes - 155 EUR
50 - 80 Minutes
EUR 155 - 200
Call (351) 21 384-3005
SPA MANICURE
This classic treatment includes nail filing, cuticle care, a refreshing hand exfoliation and a relaxing hand massage. The treatment ends with an application of the nail polish of your choice, if you wish.
60 Minutes - 155 EUR
60 Minutes
EUR 155
Call (351) 21 384-3005
SPA PEDICURE
Relax with a therapeutic foot ritual before your nails and cuticles are expertly groomed. The soles of your feet will be buffed to silky softness and your feet will then be exfoliated and massaged. The finishing touch is your choice of nail polish.
75 Minutes - 175 EUR
75 Minutes
EUR 175
Call (351) 21 384-3005
Note: Prices and treatments are subject to change without notice.