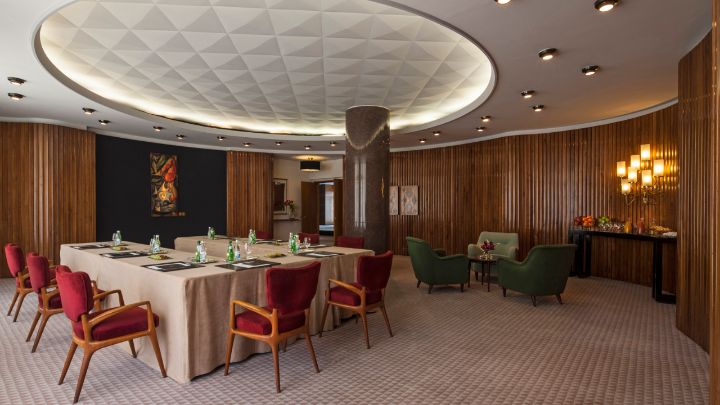 Having once served as the original Game Room of the Hotel, this highly adaptable and well-sized room features interesting scalloped, wood-lined walls and is suitable for a variety of purposes.
Décor
This oak-panelled room features unique artwork, such as the canvas "Harlequin" and the original marquetry work "Playing Cards" by Fred Kardofle as well as interesting scalloped walls.
Flexible Seating
Seating up to 50 guests, this well-sized room is adaptable for a variety of purposes.
Lighting
The high windows lead to a private terrace and welcome in natural light.
Seating
Classroom
Hollow Square
U-shape
Theatre
Reception
Banquet rounds
Conference/Boardroom

36
24
21
50
45
40
20

Location
MEZZANINE
Size
Area
Dimensions
Height

80 m2 (861 sq.ft.)
9.5 x 8.4 m (31.2 x 27.6 ft.)
2.9 m (9.5 ft.)

Note: Height shown is actual clearance height.