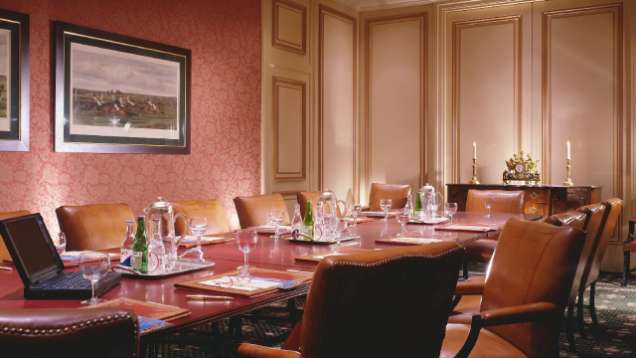 At the centre of this fabric-covered room is a wooden table that accommodates up to 20 people. On the lobby level, it offers natural sunlight and a private terrace and with remote-controlled lighting, works well for board meetings or private cocktail reception.
Décor
Classical design features and fabric-covered walls are accented by small chandeliers. The big leather arm chairs and county side prints make it the perfect room to host more intimate dinners. It also has its own outside terrace with seating space for a coffee break or cocktail.
Flexible Seating
This room welcomes board meetings of up to 20 people and can also serve as a hospitality suite for a larger meeting or host an intimate private cocktail reception.
Lighting
This bright room offers natural sunlight complementing its warm and inviting décor.
Seating
Conference/Boardroom

22

Location
LOBBY LEVEL
Size
Area
Dimensions
Height

65 m2 (700 sq.ft.)
9.2 x 7.1 m (30.2 x 23.3 ft.)
3.2 m (10.5 ft.)

Note: Height shown is actual clearance height.