Lisbon Through Four Seasons Eyes
Day Trips
From beaches to vineyards, palaces to fishermen's huts, each of our favourite day trips showcases a different face of Portugal. For more ideas and information, please consult the Lisbon Through Four Seasons Eyes City Guide, our first-ever insider's guide to our beloved city, designed by the staff at Four Seasons Hotel Ritz Lisbon with you in mind. Use it to plan your trip in advance, and download the PDF to your iPad to bring along as a sight-seeing reference.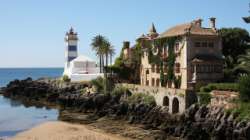 Sintra & Cascais
Green and blue, mountains and sea...
Magical, ethereal, timeless: Describing Sintra is like trying to catch the moon, while Cascais, perhaps one of Lisbon's most underrated enclaves, melds the laidback lifestyle of the American East Coast with European refinement and sophistication.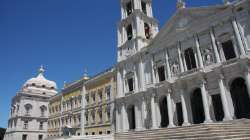 Mafra, Ericeira & Obidos
Go west for baroque extravagance and perfect waves.
Mafra's grandiose palace-monastery defies description. Perched on cliffs overlooking the Atlantic, Ericeira is a charming and lively resort with a huge claim to fame. As pristine as it is picturesque, Óbidos remains a perfectly photogenic jumble of cobblestone alleyways, whitewashed churches, colourful houses, dazzling tiles and flowerpots overflowing with geraniums and bougainvillea, all embraced within the protective walls of a 12th-century castle.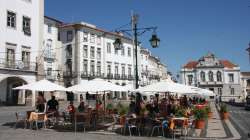 Alentejo
Antidote to modern living.
They say in Alentejo that even time takes its time. And as you drive through the endless wheat fields and gently undulating plains of Portugal's largest (yet least populated) region, the overwhelming desire is to cast your watch and worries aside. Dominated by vineyards, olive groves and the world's largest cork oak forest, Alentejo prides itself on sustainable agriculture and the richness of its land and heritage.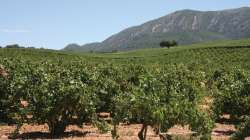 Palmela, Arrabida & Azeitão
Scenic wineries amid sprawling nature.
Travelling to Palmela from Lisbon via the Tagus River's 25th of April Bridge is a crossover experience in more ways than one. Within minutes, the long white-sand beaches of the Atlantic coast rise into towering, chalky cliffs and the surrounding hills burst with lush Mediterranean vegetation. Neighbouring Arrábida takes its name from the Arabic word for "place of prayer." After even just a few moments breathing in the fresh air and wild, isolated surrounds it's easy to see why. Finally, head to the charming villages of Azeitão at the foot of the mountains, famed for their wine (housed in extensive cellars), olives and delicious queijo de Azeitão sheep's cheese.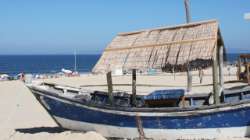 Comporta & Troia
Immerse in the "eco" lifestyle amid nature's rawest beauty.
Set within the Sado Estuary Nature Reserve, Comporta overwhelms visitors with its wild natural beauty. A lagoon leads to imposing dunes that flatten into rice fields and vast pine forests in one direction, and mellow powder beaches flanked by pristine rolling waves in the other. A rustic bohemian vibe abounds, with the focus firmly on simple, outdoor living. Even closer to Lisbon you'll find Tróia – a firm favourite with dolphins – where the dark waves of Comporta fade to an almost Caribbean turquoise.