Our Spa is a haven designed to restore harmony to your mind, body and spirit through treatments unique to Langkawi and tailored to your unique needs.
Favourites
Your royal retreat wouldn't be complete without The Geo Spa's award-winning couple's ritual, Raja and Ratu (King and Queen). Strengthen your emotional and romantic connection as you focus on your sacral, heart and crown chakras during this unifying ritual, followed by a traditional blessing ceremony.

This healing voyage unfolds a profound sense of serenity. Begin with breathwork to instill tranquility, followed by a rhythmic massage to ease tension. A stream of warm herbal oil, focused on the higher third eye and crown chakras, brings soul-deep rejuvenation.

Details
Spa Services
Wellness Services
No matter your experience level, our private and group sessions will help calm your mind and tone your body.
Meet the Team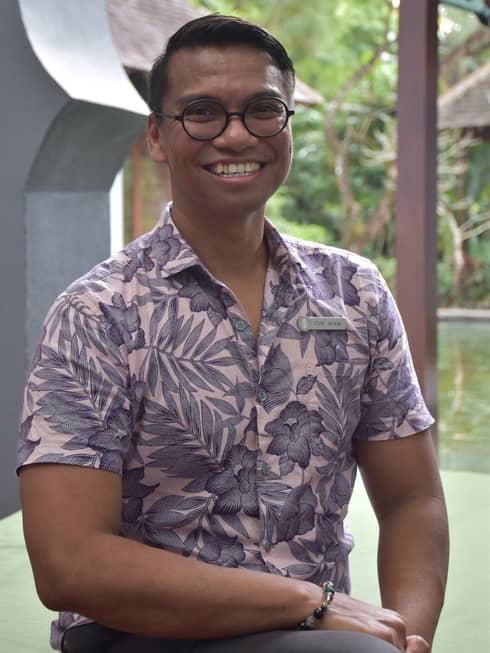 Che Wan
Spa Manager
Leading the exceptional team at the Geo Spa gives Che Wan the opportunity to take an already superb spa facility to new heights and further develop local talent. Wan sees our Spa not just as a space for indulgence but also self-transformation – that spa treatments are a must for everyone, at any age.
"When we balance the elements within us, we renew our capacity for peace, love and joy."
Chinmayi Narasimha
Resident Yogi
Resident Yogi Chinmayi Narasimha wears several hats – teacher, healer and above all, lifelong learner. Her passion for sharing yoga is fuelled by a strong belief in its powerful healing potential. She believes that many modern ailments and diseases come from unhealthy lifestyles that put us out of alignment with nature.
"The therapy systems of yoga unlock healing at multiple levels, allowing us to regain our natural balance."
GeoSpa at #FSLANGKAWI
Visit @fslangkawi and #fslangkawi to discover unforgettable guest experiences at Four Seasons Resort Langkawi.
@uiland.kr

@joannegal86

@ruoyi.i
Reconnect with yourself and the world around you with the help of this custom, three-part program comprised of a personal Elemental Balance diagnosis, a specialized body treatment and an energetically balanced meal.

Mindfulness, Yoga and Meditation

Strengthen your body, rebalance your nervous system and restore inner calm with our resident yogi through a private yoga or meditation session.