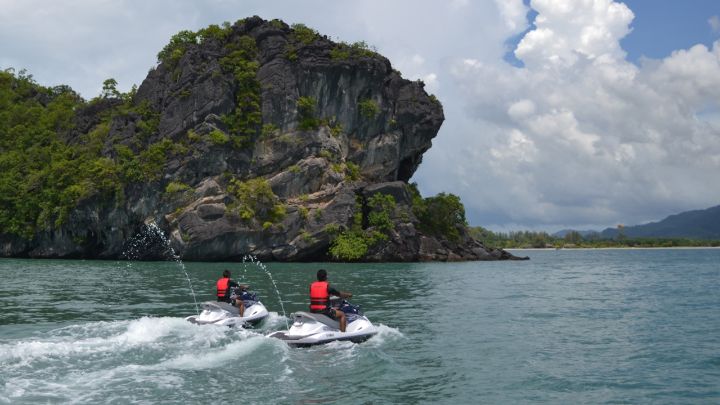 The island's best water sports facilities can be found on-site – including Malaysia's first and only high-tech X-Jetblades
Complimentary use of kayaks, windsurfs and catamarans makes the water accessible to all, while hourly beach treats keep those watching from the shore happy and hydrated.
Motorized
Jet Skis
Take to the waves in thrill-seeking style on a solo or escorted jet ski tour.
Waterskis
Our calm, warm waters, set the scene for an exhilarating water skiing experience, whether you're learning the basics or mastering ski drops and side slides.
Wakeboarding
Combine surfing, snowboarding and waterskiing techniques for an exhilarating over-water workout.
Kneeboarding
This adventure is a great intro to towed water sports – a kneeboard, a speedboat and off you go!
Inflatable tubes
Experience the ultimate in wave-riding fun with our host of exhilarating towables, including the Bandwagon, Speedzone, Great Big Mable and Poparazzi.
Speedboat
Cruise in style aboard our luxury Swan 20 speedboat, perfect for marine park snorkelling, diving or touring.
Non-Motorized
Stand-up Paddleboarding
Test your balance, strengthen your core and improve your inner bliss with incredible 360 views.
Blokart
Think sailing on land! These high-tech land yachts are easy to master and will soon see you whizzing down our 1.5 kilometre beach at adrenalin-pumping speeds.
Kite Buggy
Use your feet to steer the front wheel and your hands to control the kite as you race along the sands on these fun three-wheeled carts, mastering all sorts of tricks and manoeuvres.
Catamaran Sailing
Learn how to launch from the shore, handle the tiller, manoeuvre and navigate the Langkawi beach.
Windsurfing
Let nature steer your adventure: mount the board, find your balance, and then catch the wind on this windsurfing thrill ride.
Kayaking
Paddle the bay, or explore Langkawi's wild coastline, uninhabited islands and teeming reefs.
Note: Use of catamarans, windsurfing boards and kayaks is complimentary for in-house guest with prior experience.