Whether you're spending one day or one week in Prague, a road trip to the "City of a Hundred Towers" is sure to captivate you with its effortless balance of history, nature and art. Spend time exploring the city's melting pot of styles, including baroque, Gothic, art nouveau, cubism and modernism. Drive south to explore one of the largest castle complexes in the country, or north to find the beautiful Krkonoše Mountains and the Bohemian National Park.
Trip Highlights
Explore Prague from a different angle on our charming boat

Dine with a stunning view on our rooftop terrace

Discover the Art of Bohemian Crystal
Your Prague Itinerary
Are you an outdoor explorer, architecture lover, or romantic? These experiences offer just a taste of the magic of Prague. Allow our Concierge to tailor them for you, or let them inspire other stops on your Czech road trip.
See Prague from a different angle aboard our charming wooden boat on the Vltava River, the longest river in the Czech Republic. Your captain will pick you up at the Hotel and take you just steps away to a private dock where you can embark on a romantic excursion, catching the city's fairy-tale silhouette. Sip a glass of Champagne and enjoy a light snack, breakfast or lunch as you gaze out at the scenery of our enchanting city.

Treat yourself and your loved one to something truly special. Spend an evening together on the rooftop terrace of MIRU, named after the Japanese word for "view." Savour Japanese-fusion cuisine created by Executive Chef Leonardo Di Clemente against a backdrop of dreamy sunsets and sparkling views of Prague Castle, Charles Bridge and Vltava River.

Four Seasons Hotel Prague has teamed up with the renowned Rückl glassworks to offer you the chance to discover a unique aspect of Czech culture: Bohemia crystal glassmaking, dating back to the Renaissance. Experience handmade "crystal" up-close in Nižbor, a picturesque village in central Bohemia. Meet and interact with the craftspeople, witness the magic of mouth-blowing and glass engraving, and see the painter's studio. You'll even get a chance to cut or blow glass yourself.

Venture out for a half-day trip to Karlstejn, a romantic 14th-century Gothic castle just outside of Prague. The castle, founded by the famous King Charles IV, stores royal treasures, collections of holy relics and the crown jewels inside, and boasts equally splendid surroundings outside to discover.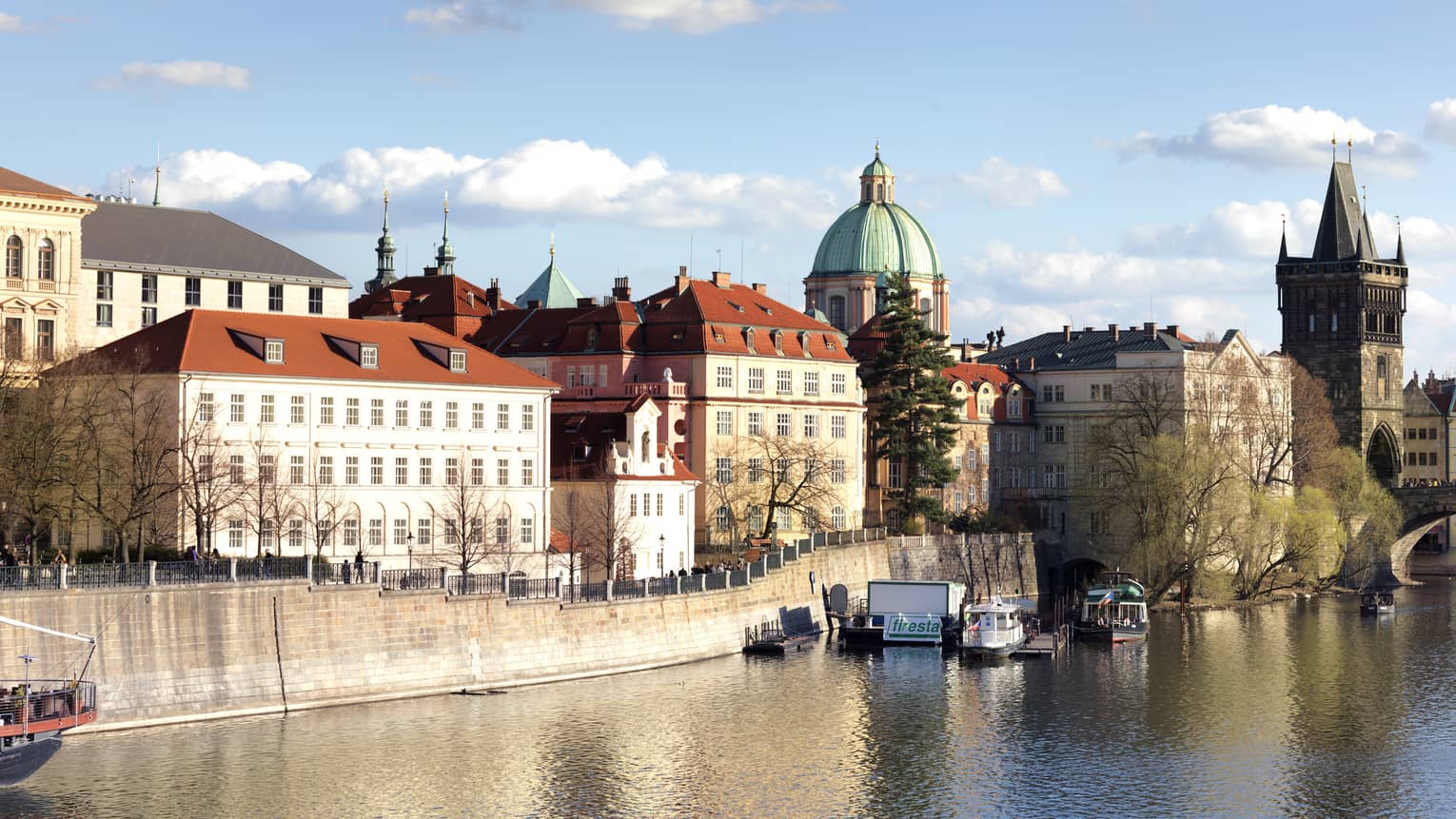 Four Seasons Hotel Prague
There's a certain magic in the air that flows through Old Town Square, onto Charles Bridge, over the Vltava and up to the tallest spires of Prague Castle – and that's just what you can see from our Hotel. Centuries of wonders fill our walls, and we invite you to explore or rediscover history, culture, gastronomy and more wonders in Prague, waiting for you only a drive away.
Learn More about Prague From Our Team
Local Gems That Can't Be Missed

Insiders from Four Seasons Hotel Prague share their favourite spots to eat, drink and play around the Hotel.

Read More
Suite Break – 25% Off
Enjoy 25% off your stay in a spacious suite with views of the city, the river or enchanting Prague Castle.
offer valid for:

Oct 21 2020 – Nov 30 2021

minimum stay:

2 nights

maximum stay:

10 nights
included
25% off our Room Rate for your stay in a suite
more details
Inspiration from Fellow Travellers
@basters_diana

@therollinsonlondon