Arrive in the "City of Seven Hills," and you'll immediately embark on a feast for the senses. Savour the locals' favourite sweet treat pastéis de nata (custard tarts) as you settle into our Hotel, your home base here in Lisbon. Venture out to explore our notable art collection, sit down to sample rare Portuguese wines or set off in your car for the day – you don't have to travel far for hilltop hamlets, relaxing beach towns or medieval villages.
Trip Highlights
Take a Day Trip to Historic Sintra and Cascais

Discover Alentejo, Portugal's Tuscany

Soak up the sun on the Guincho Coast
Your Lisbon Itinerary
Explore our city or head out for an unforgettable day trip. No matter how long you're staying in Lisbon, our Concierge can craft an itinerary that highlights the best of our coastal capital and its surroundings.
Cross Lisbon's suspension bridge, Ponte sobre o Tejo, where less than two hours away is Évora, a UNESCO World Heritage site widely considered to be one of Portugal's most beautiful towns. It is packed with treasures that include Neolithic monuments: the famous Cromlech of the Almendres, often called the Stonehenge of Portugal; the 2,000-year-old Roman Temple of Évora, one of the finest Roman monuments on the Iberian peninsula; a 12th-century cathedral where the flags of Vasco da Gama's ships were blessed prior to his journey to India; and a 16th-century aqueduct leading north-west and walkable for 8 kilometres (5 miles) – plus numerous Renaissance and Gothic churches, squares, palaces and museums.

It takes less than an hour from Lisbon to travel back to the age of imperial Portugal and Europe's original epicenter of Romantic architecture. Portuguese aristocrats have followed their royals to Sintra since the 14th century. As you wind through the scenic roads, open the windows and inhale the pure air of the Serra de Sintra (Sintra Mountains). Take in the dreamy UNESCO World Heritage landscape revealed before you: sprawling baroque palaces, towered and turreted summer residences shaded by magnificent formal gardens, and hilltop princess palaces silhouetted in pink, yellow and red against the turquoise sky. Everywhere you look, azulejos (glazed tiles) whisper a regal past. The awe-inspiring views are sure to transport your imagination deep into the mysterious mountains.

Visit Palácio National de Sintra, the oldest royal palace in Portugal; Palácio National de Pena for its storybook, ice-cream-coloured turrets and magical hilltop location; or Quinta da Regaleira for its lavish Gothic, Manueline and Renaissance architecture and garden wonderland comprising underground tunnels and caves. With so many sites to pique your interest, allow our Concierge to put together a Sinta itinerary tailored just for you.

Cascais, perhaps one of Lisbon's most underrated enclaves and only 35 minutes away, melds the laid-back lifestyle of the American East Coast with European refinement and sophistication. It's leisurely and casual yet uniquely chic – think sailing boats and surfing, exclusive condominiums and horseback riding, golfing and yachting. Sit down to a picnic on the beach, prepared by Executive Chef Pascal Meynard, with freshly baked pasteis de nata and a crisp Portuguese white wine. Don't miss the ice cream at Santini Gelati Fini, a favourite of King Juan Carlos I of Spain and worth trying yourself.

Recognized as having some of the world's best breaks, this area just 30 minutes from Lisbon is a surfer's and wind-surfer's paradise, bursting with stunning Atlantic Ocean views for all to enjoy. Whether you're watching the surf championships, horseback riding or simply enjoying the sandy beach, embrace every inch of ruggedness: You're in Guincho! Don't miss the percebes (barnacles) and Bulhão Pato clams on the terrace at Monte Mar Restaurant, followed by a grilled sea bass with a chilled bottle of Portuguese white wine.

Another highlight here is Europe's most westerly point, Cape Roca, "where the land ends and the sea begins," according to famous Portuguese poet Luís de Camões. Head to the lighthouse for the best views – and don't forget to collect your commemorative certificate: not everyone gets this close to the edge.

They say in Alentejo that even time takes its time. And as you drive through the endless wheat fields and gently undulating plains of Portugal's largest (yet least populated) region, the overwhelming desire is to cast your watch and worries aside. Dominated by vineyards, olive groves and the world's largest cork oak forest, Alentejo prides itself on sustainable agriculture and the richness of its land and heritage. It is also fast emerging as one of Europe's most exciting wine destinations, while still favouring the region's indigenous varieties of grape.

After arriving in the Alentejo region, which is about two hours from Lisbon, drive along the Wine Route signs that edge the long, straight main roads. Explore the wineries (our Concierge can arrange private wine tastings ahead of time), then stop in the charming towns of Portalegre, Nisa, Marvão, Castelo de Vide and Alter do Chão in the northeast. You could also visit three extraordinary natural parks: South West Alentejo and the Vicentina Coast (the only place in Portugal where you can see otters in their natural habitat); Guadiana Valley on the banks of the River Guadiana; and Serra de São Mamede, occupying Southern Portugal's highest ground.

Just under two hours from Lisbon, the town of Reguengos de Monsaraz sits high above the River Guadiana. This tiny walled town is straight out of a medieval fairy tale, fortified by the Knights Templar in the 14th century. Life here continues in this atmospheric enclave much as it did centuries ago. White low-rise houses line narrow cobbled streets filled with raspberry-coloured bougainvillea in the shadow of the imposing castle. Climb the battlements for a bird's-eye view of the town, the Alqueva and the vast Alentejan plains leading into neighbouring Spain.

"Before you head back to the car, you have to find Mizette," says our Head Concierge Luis Miguel. "It's a small shop that sells colourful refined blankets and shawls woven according to local traditions, and sold internationally at KENZO Home after the company's founder Kenzo Takada visited the 19th-century factory himself."
In Alentejo, try the Sericaia, a traditional Portuguese egg pudding. And in Sintra, you cannot miss Casa Piriquita's Travesseiros de Sintra (Sintra's pillows), rectangular pastries made of almonds and egg cream. They're all decadent, but you only live once!

Luis Miguel

Head Concierge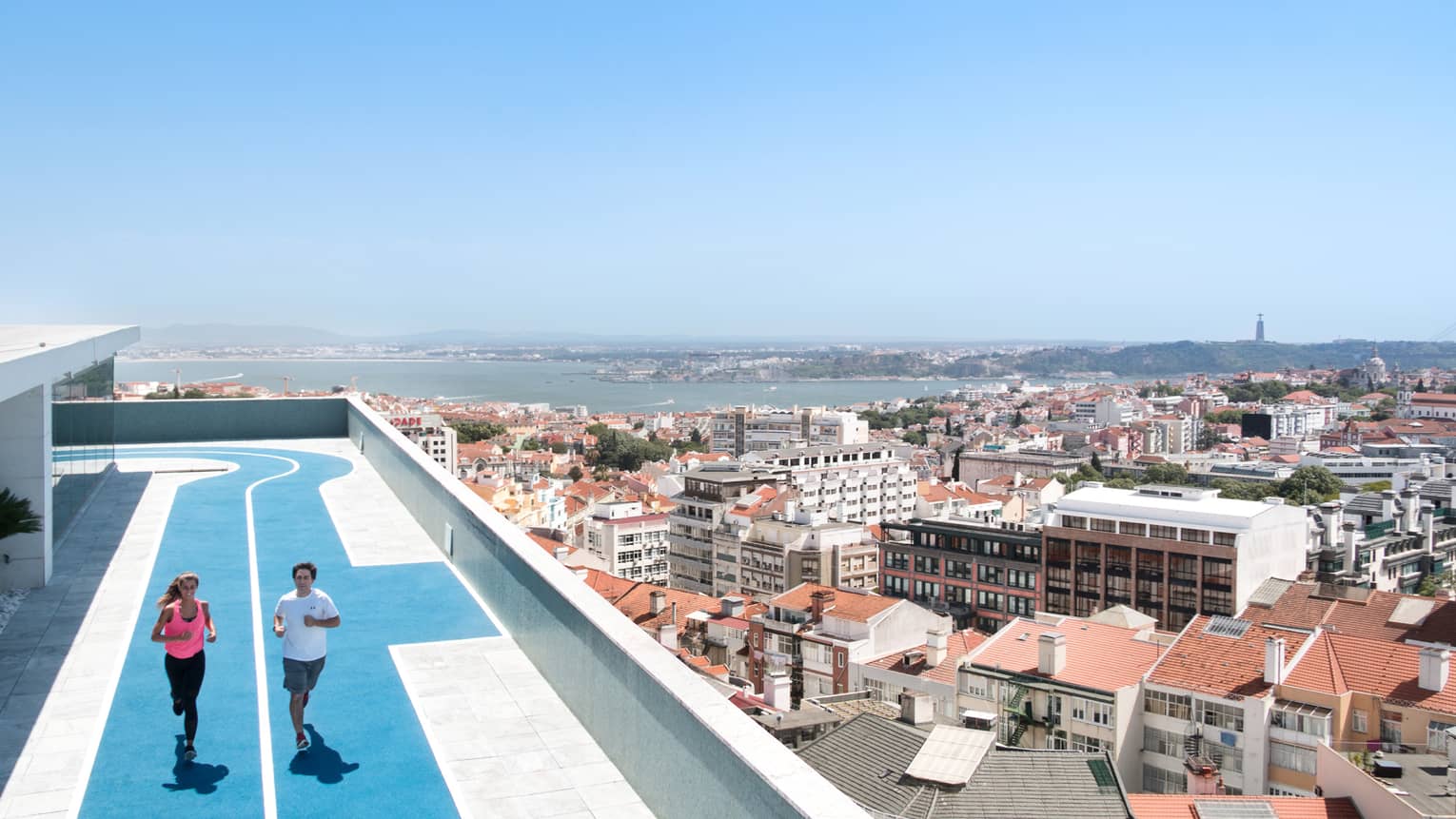 Four Seasons Hotel Ritz Lisbon
Inside our iconic Hotel, art deco sensibilities mingle with an updated Louis XVI style, and a collection of important modern Portuguese artwork fills our halls. Outside, views of the city's rolling hills and brightly tiled exteriors spread out before you.
Learn More about Lisbon From Our Team
Local Gems That Can't Be Missed

Insiders from Four Seasons Hotel Ritz Lisbon share their favourite spots to eat, drink and play around the Hotel.

Read More

It's not the things you take with you that define your journey; it's the experiences you have and the memories you bring home. Explore our Communications Director's six sensory "souvenirs."

Read More
offer valid for:

Oct 21 2020 – Dec 31 2021

minimum stay:

2 nights

maximum stay:

12 nights
more details
Inspiration from Fellow Travellers
@wisteria_voyage

@femaleglobetrotter