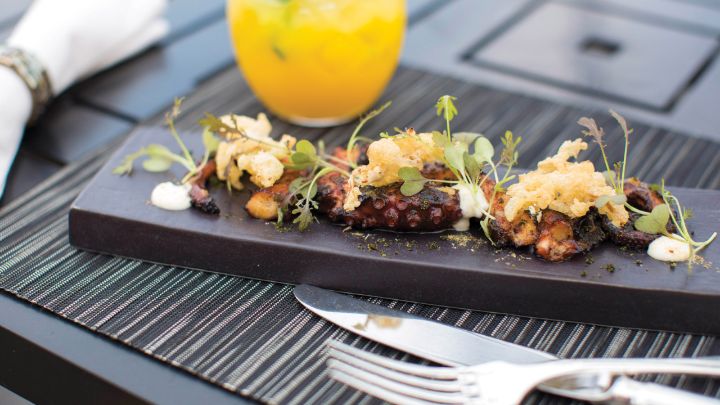 If you delight in tracking down intriguing new restaurants, exploring local markets and sampling indigenous ingredients, you'll find plenty to please your palate at Four Seasons Resort Lanai.
FLIGHTS OF FANCY

Sample the most coveted wines in one flight, courtesy of the Coravin™ system. The Coravin technology leaves the cork in place, safeguarding wine from oxidation and allowing you to enjoy 3-ounce pours without ordering or opening the entire bottle. Your Coravin tour includes tastings of exclusive wines from France, Italy, California and other regions, expertly paired with a selection of canapés. Enjoy your tasting at ONE FORTY or, upon request, at any of our other restaurants.
SAKE SUNDAYS AT NOBU LANAI – SUNDAY, 4:00 PM

Experience the flavours of Japan with a tasting of four Hokusetsu sakes and a sake cocktail at NOBU LANAI. Hokusetsu – the restaurant's preferred sake brewery – is an award-winning independent brewery established in 1871 on Sado Island in the Sea of Japan. Our Sake Master will take you from the driest Onigoroshis all the way to the dynamic Daiginjos. Learn how appearance, scent, flavour, texture and temperature influence this unique and versatile wine.

Reservations not required but recommended.
COCKTAILS ON THE COURSE

Sunset Nine Cocktails: Daily, after 3:00 pm
Rock N' Range: Thursdays, 4:00 pm – 5:30 pm

After 3:00 pm any day, play the spectacular Ocean back nine at Manele Golf Course and enjoy a cocktail as you take in views of Puupehe (Sweetheart Rock) and Hulopoe Bay to complete the Sunset Nine experience. Or head to the driving range during Rock N' Range, every Thursday from 4:00 pm to 5:30 pm, for cocktails, pupus and music.
BRUNCH BUFFET AT ONE FORTY

Daily, 6:30 am – 11:00 am

Indulge in a brunch menu showcasing the best of the island and beyond. Start with a cup of 100 percent Kona coffee, then choose from an extensive brunch menu to start your day on Lanai: exotic fruits, house-made yogurt parfaits, freshly squeezed juice from a make-your-own juice bar, meats and cheeses, breads and pastries, and warm breakfast items such as Lanai Eggs Benedict or Scrambled Tofu with Edamame. Try malasada, a traditional Portuguese-style donut that came to Hawaii along with pineapple and sugar plantation workers. Brunch at ONE FORTY also includes an array of Chinese, Korean and Japanese items such as miso-glazed cod, dim sum and congee.
MIXOLOGY CLASSES

Daily, 5:30 pm – 6:30 pm

Head to the Sports Bar & Grill for a complimentary mixology class. These hands-on lessons spotlight our talented team of mixologists, who will guide you in the art of crafting the perfect cocktail. No reservations are required.