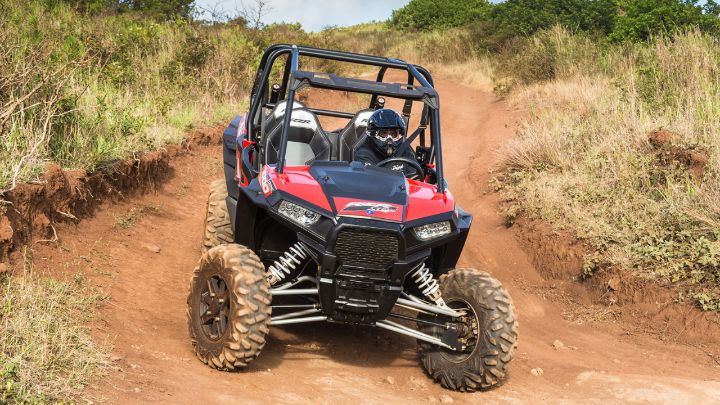 The varied landscapes of Lanai offer an array of activities to suit your adventurous spirit. Take flight for a bird's-eye view of the island, hike mountain grasslands or beach trails, snorkel at one of the world's top underwater sites, or try 4x4 off-roading across rugged terrain.
4X4 JEEP EXCURSION

Many of the island's natural wonders are best reached by 4x4 vehicle. Rent a jeep from the Adventure Center at the Resort, and hit the dirt roads at your own pace. Have the Chef pack a picnic lunch and make a day of exploring Keahkiawelo (Garden of the Gods), Keomoku, Polihua Beach or Kaiolohia (Shipwreck Beach). Find your way with Lanai Guide, a free GPS application that safely and respectfully directs island explorers to cultural sites and natural attractions.
SPORTING CLAYS

Set your aim on sporting clays launched to simulate duck, quail, dove, pheasant and hopping rabbits at the 14-station course in Lanai's highlands. Competitive shooters will find plenty to challenge them amid the wooded course, while beginners and younger shooters can hone their skills with private instruction. Upon your arrival at the course, you'll be properly fitted with all necessary equipment, and our expert instructors will guide you through gun safety and shooting etiquette, so you'll feel comfortable and prepared before you set foot on the course.
LANAI SNORKEL EXPERIENCE

Venture out by sailboat to explore one of Lanai's top snorkelling sites. During the three-hour excursion along the island's coastline, you'll spot the second highest sea cliffs in the world before anchoring at your chosen snorkel destination. Ease into the water on a stand-up paddleboard, or jump right in and start discovering Lanai's vibrant underwater scenery. Coral reef systems and submerged rocks teem with tropical fish, green sea turtles and gentle reef sharks. Snorkel alongside parrotfish, goat fish and triggerfish (also called humuhumunukunukuapuaa) the Hawaiian state fish. A picnic lunch and scenic sail carries you back to the Resort and Hulopoe Bay, another prime snorkel site you can explore anytime with complimentary gear provided by the Beach staff.

LANAI BY HORSEBACK

Saddle up and ride into the hills surrounding Koele, once the centre of ranching operations on the island – or explore the wooded valleys and trails of this extraordinary upland terrain, home to axis deer, Mouflon sheep and turkey. Riders of all experience levels can take to the area's shady groves and rolling meadows. Custom tours and private lessons are also available through the Adventure Center at the Resort. For an unparalleled equestrian excursion, experienced riders can team up with a resident wrangler for an advanced ride through the island's less-trafficked trails and open fields.
SCUBA DIVING

Experienced divers from around the world come to Lanai for the Cathedrals, two magnificent underwater sites formed by lava flows just minutes from the Resort; but a range of other diverse sites keep them coming back. A lava pinnacle called the Monolith extends from about 110 feet (33.5 metres) and houses a black coral tree rarely seen at such shallow depths. Menpachi Caves houses vibrant marine life amid its deep tubes and caverns; and at Fish Rock you can dive with indigenous fish not found anywhere else in the world. Beginning divers will also find plenty of adventure during introductory dives in Hulopoe Bay, a clear and calm spot just steps from the Resort.

Lanai by Helicopter or Plane

Soar above the mountains, rain forests and red lava cliffs of Lanai and circle the nearby Hawaiian islands of Maui, Molokai and Hawaii during a private helicopter ride. Let us help you choose from a selection of tours, or chart your own course in a custom charter flight.

Novice pilots can get hands-on during a private plane flying session with Maui Flight Academy. You'll learn takeoff, landing and cruising manoeuvres during this sky-high adventure.