My Four Seasons
Protecting an Ancient Wonder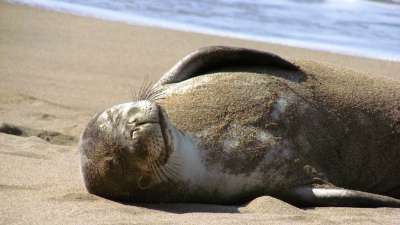 Gazing at the rugged cliffs, pristine beaches and clear waters of Manele Bay, it's easy to feel transported to Lanai's earliest days. Man didn't settle here until the 15th century or so, but millions of years before people came to the island, monk seals frolicked in our tropical waters. For the lucky visitors who lay eyes on a monk seal today, the sight is truly a glimpse into Hawaii's most ancient history.

Called `Ilio-holo-i-ka-uaua ("dog that runs through water") in Hawaiian, the monk seal gets its English name from its round head – covered in soft hairs, it's thought to be reminiscent of a friar's – and its solitary lifestyle. Unlike other seal species that live in groups, Hawaiian monk seals are left alone by their mothers to forage after just a few weeks of nursing.

Once plentiful, there are now only about 1,100 monk seals remaining in Hawaiian waters, and the population continues to decline – Hawaiian monk seals are critically endangered due to poaching, a scarcity of food, and other factors. Four Seasons Resort Lanai at Manele Bay aims to help secure a future for these ancient mammals by partnering with the Monk Seal Foundation, a Hawaiian non-profit organization, to protect them from extinction.

The monk seal is Hawaii's official state mammal, and they hold a special place in our hearts here at the Resort. Because our beach is so remote, it's a beloved playground for monk seals, and the occasional sighting is a rare treat for both our guests and our staff. Many Four Seasons staff members are involved in efforts to help protect the monk seal – locating and tagging them on our island so that researchers can better understand how to keep the population safe, and assisting local response teams when seals swim up on the beach.

Through a new partnership with the Monk Seal Foundation, our guests can learn more about these indigenous wonders. Special on-site lectures by volunteers from the foundation will allow guests to get to know the friendly creatures that reside in our waters, and younger guests will receive monk seal colouring books and educational materials through our Kids For All Seasons program. Even better, guests can "adopt" a monk seal that swims in our waters, receiving an adoption certificate, a biography of their adoptee seal and an exclusive Hawaiian monk seal plush toy.

Adopting a seal doesn't mean you'll get to take a real one home with you, but working together, we can help make sure Hawaiian monk seals will still be around for many visits – and generations – to come.