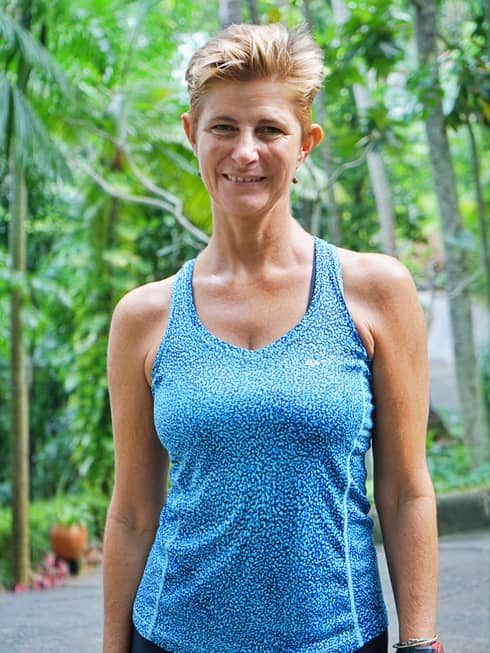 Karan Ladd
Yoga, Pilates, Meditation
While working as a math teacher here in Koh Samui, Karan was introduced to yoga, which soon became her passion. Having explored many styles, Karan is particularly interested in the different ways the body and mind can be used to improve strength, posture and flexibility, while enhancing a feeling of calmness and serenity. Karan uses this same approach in her Pilates classes, delivering a series of exercises to tone and strengthen core muscles, to prevent or rehabilitate from injury, relieve back pain and to improve posture and body confidence.
Uschi Hermann
Aqua Healing & Aqua Yoga
Uschi's affinity for water was apparent since she was a child. Having learned yoga at Sattva Yoga Academy in Rishikesh, India, she dreamed of combining her passion for yoga and the water, and trained in Healing Dance (an offshoot of Watsu) in Bali to become an aquatic body worker. For Uschi, bringing yoga into the water creates a safe, supportive, nurturing experience for people who feel unfit. During aqua healing sessions, she combines gentle yoga in the water, followed by floating reiki techniques to balance energies in the body, remove blockages and relieve stress. The session ends with a beautiful healing dance, which encourages deep relaxation.
Yoga, Pilates and Meditation with Karan Ladd

60 Minutes
THB 3500 - 6500
Aqua Healing with Uschi Hermann

75 Minutes
THB 6000
Aqua Yoga with Uschi Hermann

60 Minutes
THB 3500 - 6500
Available by appointment for singles, couples and groups (3 to 8). Prices and treatments are subject to change without notice. Prices are subject to 10% service charge and 7% government tax.