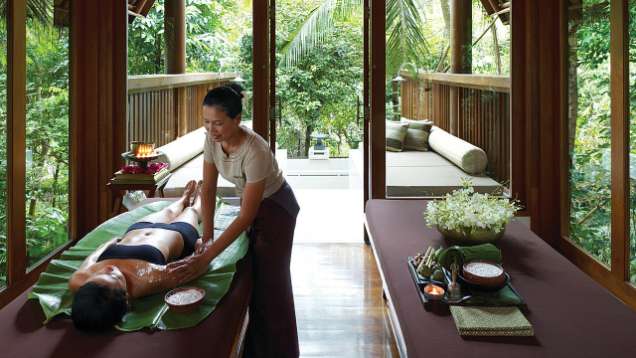 Guava & Kaffir Lime Zest Scrub
For a vitamin boost, cleansing your body and your mind.
Coconut Oil & Jasmine Rice Scurb
For hydrating, nourishing and balancing.
Lavender, Geranium & Lemongrass Scurb
For energizing, stimulating and detoxifying.
WRAPS
Choose from our three Secret Garden wraps:
Thai white clay, pumpkin, coconut oil and banana leaves
Mineral-boosting, moisturising and brightening

Red clay, rosella, jojoba, sweet almond, geranium and grapefruit
Energising, detoxifying and circulation-boosting, ideal for ageing and sensitive skin

Aloe vera, cucumber and banana leaves
For cooling overheated, sensitive or sunburnt body and facial skin.
Not suitable during pregnancy
Note: Prices and treatments are subject to change without notice. Prices are subject to 10% service charge and 7% government tax.