Destination
Family Itinerary
Four Seasons Resort Koh Samui is the perfect destination for a family retreat. From crab hunting, coconut painting, elephant trekking, to private cruising and relaxing massages, there's something for the entire family. Our concierge would be more than happy to create a customised itinerary to suit your family's interests and needs.
ARRIVAL
Four Seasons Resort Koh Samui welcomes your family with a panoramic view of the Gulf of Thailand. While sipping your welcome drinks, each young guest receives a Kid Arrival Kit, including kids' amenities, children's activity program and menu.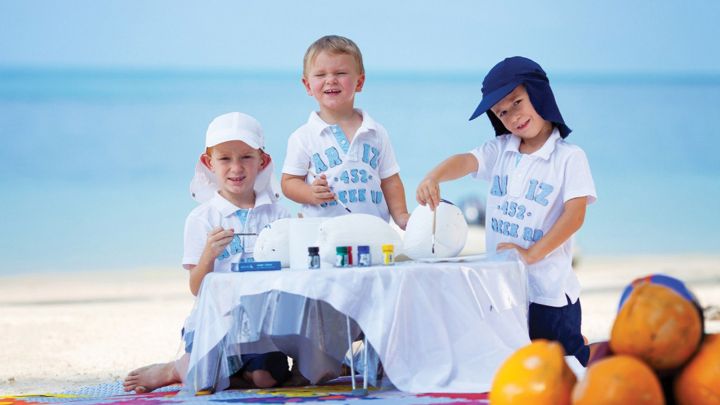 DAY 1: FAMILY IN PARADISE
The kids can enjoy fun complimentary activities at the Resort's Kids' Club while you get pampered with a spa treatment on the beach. Afterward, enjoy a family dinner of fine, local Thai cuisine together at KOH Thai Kitchen & Bar.
DAY 2: ISLAND'S ADVENTURES
A day of adventure unfolds as you explore a tropical paradise on board the Resort's private cruiser. After you head back to the Resort, laze on the beach and savour light bites and refreshing snacks at CoCoRum. A private family BBQ, the menu offers a variety of salads, side dishes and desserts, bringing another day in paradise to a perfect conclusion.
DAY 3: FAMILY IN ACTION
Gear the kids up for some action with a private Muay Thai lesson in our authentic ring with a view. Or have some family fun learning the secrets of Thai cooking at KOH Cooking Class. Enjoy vibrant Mediterranean cuisine in an upbeat, casual ambience at Pla Pla. Wind the kids down with spa treatments especially for them.
DAY 4: ISLAND ESCAPE
Enjoy fun in the sun exploring a wide range of beach activities and water sports. Savour a Four Seasons-style family picnic at the beach. The grownups then conclude the trip with an unforgettable Once-in-a-Blue-Moon dinner for two at the Private Cove while our Concierge arranges babysitting service for the kids.