Destination
Couples' Itinerary
Sail into the sunset on a private cruise, dine in the comfort of Four Seasons service by the edge of the ocean, or just soak up the rich and pristine natural beauty of Thailand's island paradise. Four Seasons Resort Koh Samui is the perfect destination for your precious together time. Please contact our Concierge to personalise your visit.
ARRIVAL
The first impression upon arrival at the Four Seasons Resort Koh Samui is the panoramic view of the ocean and the surrounding islands. Enjoy your welcome drink while marvel at this spectacular scene.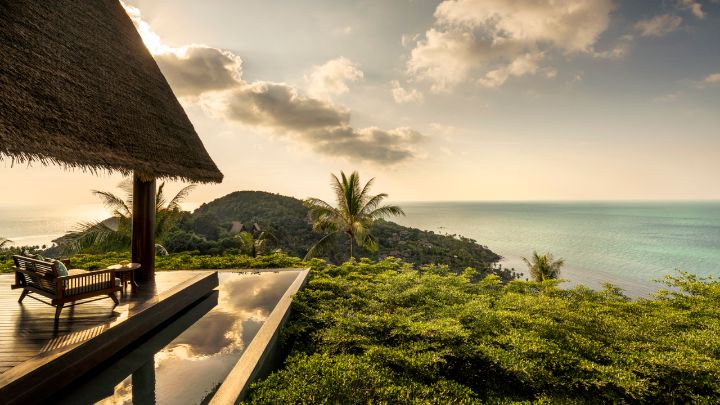 DAY 1: AWAY–FROM–IT–ALL ROMANCE
An ideal way to spend the first day at the Resort is to relax with your partner. End a perfect Four Seasons day exploring signature wine and cocktail selections at KOH Bar, followed by authentic Thai menus at KOH Thai Kitchen & Bar.
DAY 2: CRUISING IN THE SUN
Enjoy a whole day of sun and fun, spiced with a touch of adventure, all while comfortably on board the Resort's private cruiser. Follow the trip with an exclusive, unforgettable Once-in-a-Blue-Moon dinner on our private beach.
DAY 3: SPICE UP YOUR DAY WITH A LITTLE ACTION
From culinary fun to Muay Thai boxing with a beautiful view in the morning, add a little extra spice to your romantic getaway. Then add more exploring Thai culinary art at KOH Cooking Studio. Spend the afternoon swimming and relaxing by the pool.
Enjoy the upbeat, casual ambience and refreshing Mediterranean cuisine at Pla Pla restaurant. Last but not least, an exciting evening watching professional Muay Thai boxing bouts from VIP sheets at the local stadium, escorted and explained by our resident instructor, concludes the day on an incredible high.
DAY 4: UNFORGETTABLE MOMENTS
Unwind with a couples' spa treatment at Secret Garden Spa. End the day with dinner at CoCoRum featuring your favourite seafood served Latin-American style – the perfect complement to our rum-based cocktails. Then before bedtime, enjoy last minute shopping at the fishermen's village.