Unwind in your very own lush, luxurious paradise – with the utter bliss and peace of mind that come with signature Four Seasons service and security, 24 hours a day. Ideal for friends or family get-togethers, the ocean-facing Owner's Residence is perched on the tropical hillside, with panoramic views of the Gulf of Thailand and nearby islands.
Designed by renowned architect Bill Bensley, this expansive Residence makes the most of its stunning seaside location, offering an indulgent holiday experience. Take a dip in your infinity pool (18 metres long, four metres wide, with a 1.4-metre depth), sip refreshing drinks served by a private butler on the large sundeck, or enjoy an informal meal at the Japanese-style sunken table in the open-air pavilion.
Culinary luxury takes on a whole new meaning with a brand-new addition to the Owner's Residence of a private chef and fully-equipped kitchen at your disposal. Relish sumptuous feasts together in the spacious dining and living areas, with each delectable dish freshly prepared and tailored to your tastes. On a night of your choosing, we will also organize a private barbecue dinner for your party.
If you want a change of scene, take your private yacht out for a breezy spin in the crystal-clear ocean waters or hop into your exclusive luxury van to discover the sights and sounds of Koh Samui. The last word in island luxury, the Four Seasons Owner's Residence in Koh Samui is a chance to get away from it all – without having to compromise on thoughtful service, easy accessibility and complete security.
Chic Décor
Bill Bensley blends southern Thai tradition with contemporary style. The interiors are dressed up in shades of classic pewter, beige and silver, accented with warm yellow, brown and bronze. Custom-made artwork and silk accessories lend authenticity and elegance to the ambience, while signature aquatic themed accessories add casual island chic.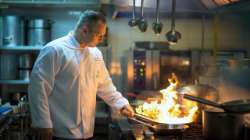 Private chef and kitchen
Those who eat fabulous food together, have great vacations together! With a private chef and fully-equipped kitchen, enjoy freshly whipped-up treats of your choice – whenever and wherever you want. Linger over meals in the spacious dining and living areas or the panoramic open-air pavilion.
Sleeping sanctuaries
Along with expansive shared living spaces, the Residence offers private sanctuaries for guests. Retreat to your spacious bedroom for quiet relaxation and rejuvenating rest. The master bedroom opens onto a wooden deck with an infinity edge plunge pool and enjoys spectacular views.
The Owner's Residence Package Includes:
Accommodation at the Four-Bedroom Owner's Residence
Private Chef during stay
Daily breakfast to be served at the Residence or at KOH Thai Kitchen
Round-trip transfers to and from airport by luxury vans
Luxury limousine and chauffeur throughout the stay
Private live-in butler
Private fitness instructor to design daily routine
Private yacht for up to 12 persons for use during stay
One-time private BBQ dinner at the Residence
Please contact Director of Sales, Bikramjit Bhangoo by email or call 662-207-8999 for this special package or a tailor made package for your party.