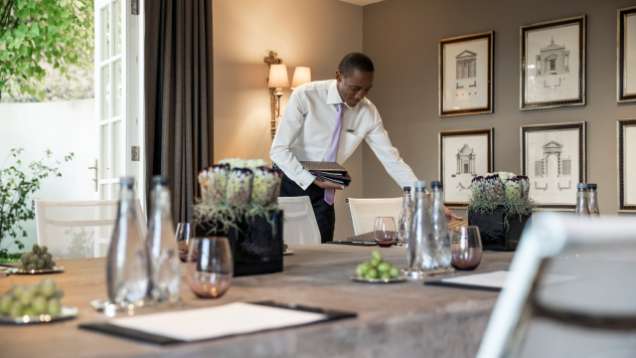 Intimate and ideal for small meetings or an on-site office, Veronia meeting room is adjacent to Clivia meeting room. It can accommodate up to four people.

Versatile Space
Vernonia meeting room is suitable for a variety of uses: as an interview room, for pre-meeting briefings with key stakeholders, or for a bilateral meeting during a major gathering.


Central Location
This venue is found at the entrance to the Hotel on the lower level.


Excellent Views
Take in remarkable views of Johannesburg's heritage buildings and the city's famous zoo.

Seating
Banquet rounds

4

Room Features
Breakout rooms available with this room
Wiireless Internet access

Location
Indoor Venues
Size
Area
Dimensions
Height

10 m2 (107 sq.ft.)
2.9 x 3.4 m (9.5 x 11.2 ft.)
2.6 m (8.5 ft.)