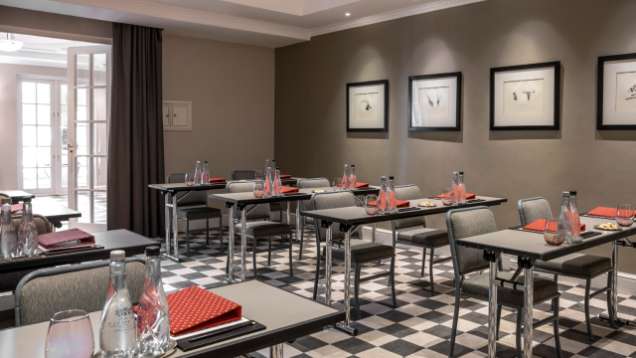 Smart and sophisticated, Protea is located within the main dining areas on the upper level and is ideal for smaller board meetings or briefings.

Upscale Ambience
Distinctive ecru suede walls, contemporary draped curtains and comfortable suede chairs create a tranquil, intimate environment.

Well-Appointed Space
This venue offers 34 square metres (366 square feet) of well-appointed space. It can accommodate up to 20 people.


Business-Ready
The space is equipped with high-speed Internet access, and is located off the fountain courtyard adjacent to the property's main restaurant.


Seating
Classroom
Hollow Square
U-shape
Theatre
Reception
Banquet rounds
Conference/Boardroom

14
16
12
20
20
20
14

Room Features
Breakout rooms available with this room
Pre-function space available with this room
Wiireless Internet access

Location
Indoor Venues
Size
Area
Dimensions
Height

34 m2 (366 sq.ft.)
5.8 x 5.8 m (19 x 19 ft.)
2.6 m (8.5 ft.)