Function Rooms
Imperial Villa
Imperial by Design, Balinese by Nature
The most coveted of Bali wedding villas, the Imperial Villa is the ultimate location for a wedding, reception and honeymoon all in one idyllic venue. Blending contemporary tropical design with authentic décor, the two-storey layout offers majestic views of Jimbaran Bay. The upper level's cantilevered lawn hosts up to 80 people for ceremonies and receptions. On the lower level, the pool terrace and residential-style dining room offer additional space for cocktail parties and intimate dinners.
Why You'll Love It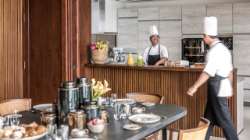 The Morning After
After the celebrations, retire to the Imperial Villa's master bedroom and make yourselves at home. Share your lavish accommodations with up to seven guests, or indulge on your own. Wake up to sparkling views and a chef-cooked meal, and start your new life together immersed in the beauty of the resort's coastal gardens.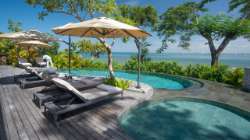 Best of Both Worlds
The below-level design simultaneously maximizes privacy and ocean views, and offers multiple areas for intimate celebrations. The pool and master bedroom are located on the lower level for maximum privacy, while the upper level provides elevated ocean views for the ceremony and reception.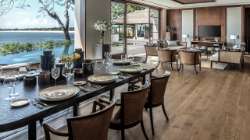 Intimate and Exclusive
With three bedrooms, spacious indoor and outdoor areas, a large open kitchen and dining room, the Imperial Villa is perfect for pre-wedding preparations and private dining.
Room Details
Seating
Reception
Banquet rounds
Theatre

100
60
80

Room Features
Private villa with three bedrooms, residential-style interiors, spacious indoor/outdoor areas, infinity pool and cantilevered lawn on the upper level

Location
Oceanfront position along the Resorts 1-kilometre (0.6-mile) coastline
Size
Area

1,296 m2 (13,993 sq.ft.)