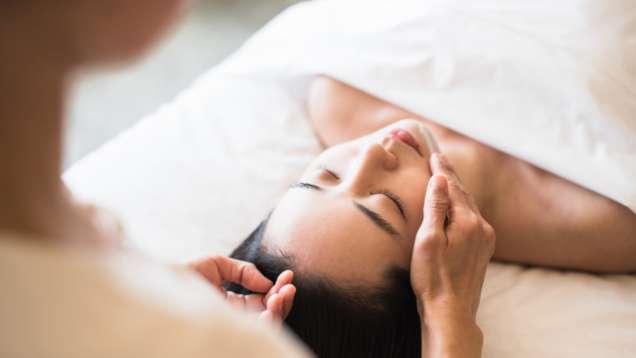 Meaning "earth" in Sanskrit, ila face treatments harness nature's vibrancy in its truest sense. Combining pure ingredients, ancient traditions and sustainable processes, they improve natural beauty through the health and vitality of the skin while increasing wellbeing through the transforming effects of energy healing. Widely considered one of the world's leading organic wellness brands, ila is proof that results-driven benefits can go hand in hand with the highest standards of natural and ethical integrity.

Bliss
This heavenly therapy restores natural luminance by increasing blood circulation and stimulating the free-flow of energy to facial cells. Specialised techniques combine with powerful damascena rose otto and sandalwood oils to reduce inflammation, address hormonal imbalance and open the energy centres of the face: skin glows with radiance and a sense of peace pervades the body.

Crystal
Using the healing vibrations of crystals, this divine face treatment has a calming yet uplifting effect. A garnet face scrub, rose cream and jade mask, plus a massage with warmed Himalayan crystals relax the muscles and dissolve stress lines. A sensuous and nourishing experience, it is also suitable for dry and sensitive skin.

Marine Detox
This deep-cleansing face treatment unites nutrient-dense marine elements and nerve point therapy to remove waste build up and boost rapid repair of damaged or dehydrated skin. Sea lettuce detoxifies and boosts the lymphatic system. Bio-plasma serum and sea lavender mask encourage collagen production. Skin is purified; vitality and tone improved; and tension eased from micro-muscles.

Note: Prices and treatments are subject to change without notice. Prices are subject to 21% tax and service charge.