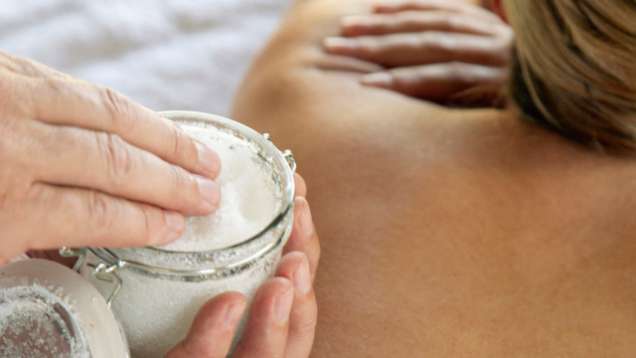 Much more than mere skin exfoliation, our therapeutic body scrubs help eliminate fatigue, impart energy and stimulate the circulatory and lymphatic systems. These fragrant earth offerings to the body leave skin smooth, hydrated and glowing with radiance, lifting both your spirit and senses.

Himalayan Salt Scrub: Blissful or Energizing & Detoxifying
When warmed with friction, our 250-million-year-old Himalayan salt emits negative ions, uplifting the body's bio-energy field and boosting emotional and physical wellbeing. Choose Blissful for soothing and relaxing or Energising & Detoxifying for cleansing and invigorating. Both treatments are excellent for treating the effects of jet lag.

Pearl and Jasmine Stress Reliever
Pearl and jasmine are both known to have profoundly calming and balancing effects on the nervous system. Combined with stimulating Himalayan salt crystals, they help relieve deep-rooted stresses, restoring physical vitality, mental clarity and emotional strength and wellbeing. This treatment is also great for treating jet lag.

Balinese Coconilla
This locally inspired treatment features a Balinese blend of freshly shredded young coconut, vanilla beans and coconut milk to gently polish and naturally hydrate the skin. The treatment concludes with a Bali Shanti oil back massage and an application of Ocean Lotion with vanilla, coconut and aloe vera.

Note: Prices and treatments are subject to change without notice. Prices are subject to 21% tax and service charge.