My Four Seasons
Multigenerational Family Fun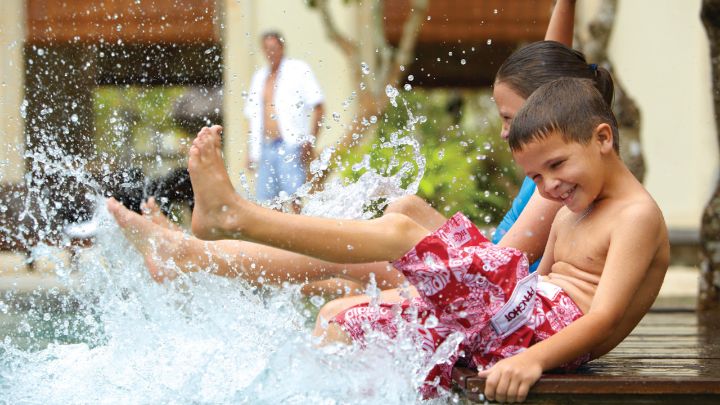 While Bali is a tropical paradise for adults, it's also a great place for families. Our nine private villas –which contain up to four air-conditioned bedrooms – can easily accommodate babies, toddlers, teenagers, parents, and grandparents. They offer all the comforts of home, plus the ultimate privacy in a gorgeous tropical setting with instant access to the beach, dedicated butler service, and private 20-metre pool, which is plenty big enough for swimming races and family games.
As guests in one of our villas, you'll love the feeling of seclusion, the experience of complete pampering, and the comfort of knowing there are activities of all kinds to please family members of all ages. Children and adults can explore the culture and natural beauty of Bali, or simply relax with activities from sailing to a remote tropical island or snorkelling the warm waters of the Indian Ocean, to blissful relaxation at the Balinese-themed spa.
A favourite family adventure is a trek to the mountains to explore the famous wood and stone carving centres of Batubulan, Mas and Kemenuh. In these villages, visitors watch as artists create masterpieces of intricate design using traditional Balinese carving methods. The Elephant Safari Park, north of Ubud, is one of Bali's most popular family attractions. You can ride these gentle creatures through the rainforest, feed them and even bathe with them in the cool lake.
In the evening, visitors flock to the ancient cliff-top temple of Pura Luhur Uluwatu to see a performance of the enchanting traditional Kecak dance. A hundred and fifty bare-chested male dancers gather in a circle as they chant rhythmically and throw up their arms in memory of the famous legend of Ramayana.
Ready to collapse after a busy day of incredible adventures? Gather the family for a movie in your state-of-the-art den, which features a CD player, DVD and video player, radio and plasma TV. Or, if you prefer to soak in the natural Balinese ambience, turn off the outside lights and let the canopy of shimmering stars above work its magic.