My Four Seasons
Karsila, King of Butlers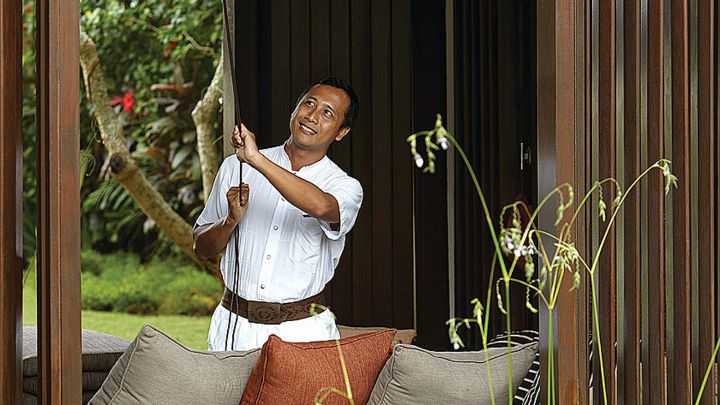 One of the best – and most bespoke – features of a stay at our Residence Villas is experiencing the superlative service of our beloved butlers. An original staff member since the Resort opened in 1992, Karsila personifies the attentiveness, professionalism, and supreme all-around-service that these staff stalwarts provide.
A product of the renowned Magnums Butlers training programme, Karsila does his utmost to ensure guests enjoy a worry-free vacation, filled with everything they envisage: from pampering to parties, relaxation to action-packed activities. "My job is such fun," he says, "even when my guests turn out to be partygoers and I don't get much sleep!"
Before welcoming his new arrivals, Karsila examines everything "from the beds to the pool pump to the electricity," to ensure optimum working order. His cooking skills are in hot demand too – return guests often make special requests, sometimes inviting local friends to join them for dinner parties. And while many of Karsila's guests include movie stars and celebrities, he is far too discreet to reveal their identities…
When he is able to, Karsila accompanies guests on daytrips – acting as guide, general helpmate or babysitter. In true Balinese style, he holds a special fondness for children and loves planning special activities for his youngest guests. In addition to drawing and painting, he arranges kite flying on the beach or fishing in the pond. It's not surprising that children fall in love with him and tear up when they leave. Such farewells have compelled Karsila to see families off at the airport. His two sons often visit him at the Resort and have themselves become familiar faces to staff and guests alike.
Over the years, Karsila has developed such a strong bond with guests that many keep in touch by email; when they inform him of a return vacation to Jimbaran Bay, he takes pains to plans his own holiday around their visit to ensure that he is available to look after them.
"If my guests are happy and enjoying their stay," Karsila explains, "then I know that I am doing my job properly. I have fulfilled my career dreams being a butler at Four Seasons Jimbaran Bay– there is nothing I would rather do."
More Four Seasons Stories