My Four Seasons
BALI FAVOURITES
Tips From Our General Manager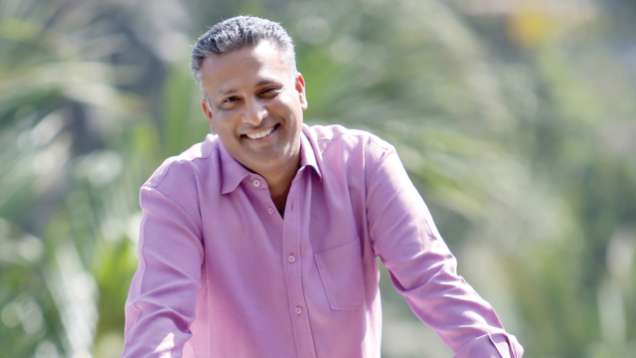 More Four Seasons Stories
Uday Rao has been with Four Seasons Resorts Bali since 2012, and he quickly discovered that he loves living on the island.
"It's heaven on earth for me. Bali offers exactly what most people are looking for in life: happiness, peace and contentment. It really changes the way one views the world. It's wonderful to see the calmness, humility and serenity in how the Balinese live their lives."
We asked Uday to share some of his favourite local experiences to guide you during your time at Four Seasons Jimbaran Bay, and ensure you make the most of your stay on the island's south-western 'sunset' coast.
Favourite Spots Within The Resort
Sundara

This is a great all-day chill-out spot. Start on a daybed and laze and graze your way through lunch and sunset cocktails. Live music several times a week adds the perfect touch to a seaside sundowner. Dinner is a must – the menu is modern Asian and the unique customised dining concept encourages family-style sharing. The dessert station is too good to resist! I like the Mezzanine level for best ocean views and intimacy.
Resort Temple

Take a complimentary tour with our priest to learn about the temple architecture, daily offerings, rituals and the role that spirituality plays in Balinese life and society.
Nirvana Shanti Bale

You can't get any closer to the waves for a spa treatment or yoga session. Breathe in the salt air. Breathe out the stress. Night Fire Yoga has a special energy in this location.
Coconut Grove

Hammocks, fresh coconuts, steps from the ocean and a variety of activities if you feel like getting active...Surfing, SUP, kayaking, sailing, or even a game of bocce or table tennis.
Healing Village Spa

A truly healing place. I love the soothing ambience. Our therapists spiritually cleanse each treatment room each day, and I feel the weight of the world roll off my shoulders as soon as I enter the space. I love coming here and connecting with traditional healers, seeing guests glowing after a divine chakra ceremony, and meeting visiting wellness gurus from all around the world who bring their own healing therapies to complement our Balinese remedies.
Favourite Jimbaran Restaurants
Cuca

Great food but the ambiance is very quiet. Best to sit at the counters overlooking the kitchen. This is where the action is. Must order the Pulled Pork Buns. Limited wine list. Beautiful food presentation. It's art on a plate!
Imadoki

Small Japanese restaurant, home style food. Best for Soba and Udon noodles. Very casual, but as authentic as one can get in Japanese food in Bali. I go there quite often.
Favourite Walk
Jimbaran Beach

Nothing beats a long walk along Jimbaran Beach. Start from Sundara Restaurant at Four Seasons and continue down the beach. The buzz is great, each sunset is perfect. The beach comes alive with locals playing soccer, couples and families out strolling, fishing off the beach, seafood cafés and restaurants, bars getting busier as the sun goes down, the buzz is electric...one can easily walk 2 to 3 miles both ways, and you can go as far as the airport. But don't forget to stop and see the sunset as you walk or take a rest on the sand and soak it all in.
Nirvana Shanti Bale

The foreshore path that starts at Nirvana Shanti Bale and winds along the resort's ocean-front gardens to Sundara is a beautiful walk. Take your time and stop at the various private bales along the water's edge to soak up the views and watch the action on the other side of the Bay.
Favourite Seminyak Restaurants
Sarong

Elegant ambience, always busy and for good reason. Modern Asian food, excellent cocktails and service. Highly recommended.
Mamasan

Another Will Meyrick success story. Hip, buzzing atmosphere with a chic bar on the second floor. Excellent Asian selection and the Coconut Mojitos are delicious.
Urchin

Its newer than the others on this list, but has made its mark in Bali. Excellent menu focused on seafood. Can't go wrong. Ambience is fine dining.
La Lucciola

Still the one – here before any other restaurants had even dreamed of opening in Seminyak. Great for brunch or lunch, situated on Seminyak Beach next to a big temple. Mediterranean menu. Note: If you need restaurant recommendations, I can help as I have been and experienced them all. You won't go wrong!
Favourite Coffee Shop
Revolver

Funky, edgy, hidden down a lane off Jalan Oberoi, fun vibe and excellent coffee.
Favourite Temples in Uluwatu
Pura Luhur Uluwatu

Do not go during sunset as most people do. Save yourself the hassle and avoid the tourist buses. Go earlier and see the temple. Beware of the monkeys! But a beautiful temple. A must see. Special views over the southern tip of Bali and the line-up of surf breaks along the coast.
Gunung Payung

Another beautiful ocean-front temple on the Bukit. Has a holy water spring inside.
Sundara and El Kabron

Sundara 100 percent! Another favourite spot is El Kabron. Spanish tapas bar and beach club on the Uluwatu cliffs, high above the ocean.
Sundara and Sundays Beach Club

Apart from Sundara (Yes, I love it that much!), Sundays Beach Club (previously known as Finn's) is cool, fun and the setting is very nice. Great buzz.
Amo in Petitenget

Great for very reasonably priced and excellent manicures and pedicures, nice café that serves coffee or tea and even wine and cocktails for those keen on an early start.
Jenggala

Ceramics gallery and showroom with a cafe and 'Paint-a-Pot' studio to create your own piece of ceramic art. Fabulous chinaware, glassware and table tops for the house. Made locally. Worth visiting. Take an empty suitcase!
We'ar

Beautiful small boutique, designs by a Kiwi. Tropical and summer women's wear; cotton dresses, tops, shorts, pants, skirts. Great yoga and casual wear.
Biasa

Men's and women's tropical linen and cotton wear...selection for women is larger.
Aster Boutique

Men's and women's tropical linen and cotton wear...selection for men is larger.
Alta Moda

Fabric store...floors of fabrics from wool, linen and silk to cotton in all colours and patterns. Take your favourite dress or shirt or trousers and have them custom stitched. I get my linen shirts made here and have never been disappointed.