My Four Seasons
A Tale of Two Balis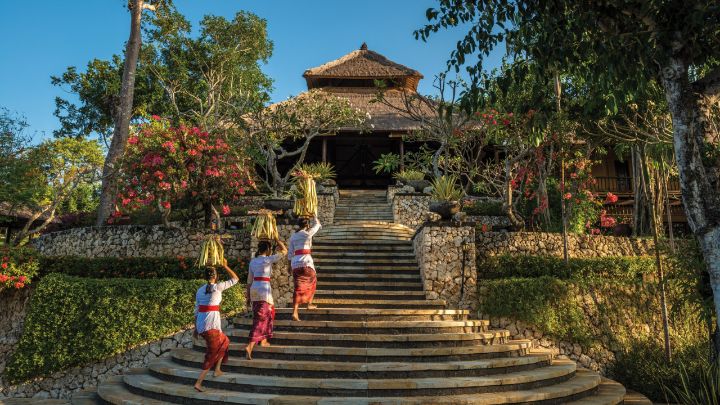 Bali has long appealed to cultural connoisseurs and party-in-paradise devotees – a traveller's journey of juxtapositions that needn't be mutually exclusive. Here at Four Seasons Resort at Jimbaran Bay, we pay homage to our country's rich traditions whilst also embracing its modern beach-chic appeal. We encourage all our guests to immerse themselves in all that they feel drawn to – that's the beauty and freedom of Bali. So, venture offsite and embark on your personal Balinese pilgrimage, from nature's bounty to nightlife's beat, cultural immersions to city excursions, local treatments to retail therapy, temple stopping to bar hopping.
For a special experience of the forgotten Bali, embark on a breathtaking trek to Muntigunung: a remote, desert-like area of some 36 villages – up to 800m above sea level – in the tranquil, canyon-strewn northeast of the island. Here, amid some of Bali's driest and most rugged landscape, community projects provide a valuable livelihood for villagers, affording visitors a fascinating insight into the challenges faced by these detached rural communities. High quality Muntigunung products such as tea and handcrafted souvenirs are also available to purchase from the Resort.
By contrast, sea-level and high-end Seminyak is abuzz with designer boutiques and creative galleries, sophisticated restaurants and trendy bars. Vibrant and dynamic, there is something to satisfy every contemporary palate. Shop to your heart's content for all things fancy, fashionable and frilly at Biasa Bali, Magali Pascal, Lily Jean, Uma and Leopold, and HOBO Seminyak. Sample the jet-set restaurant scene with brunch at Sisterfields, modern Asian fare at Mama San, seafood at Sardine, high tea at Biku and Sunday roast at Jemme Restaurant & Jewellery Gallery – not to mention Petitenget (international cuisine), Metis Restaurant (French), and Merah Putih (Indonesian). Then dance and drink deep into the night at La Favela, Motel Mexicola, MIRROR Club & Lounge and the Red Carpet Champagne Bar.
Just ask our concierge for more recommendations and top tips and let the journey begin.