Meetings & Events
Conference Planning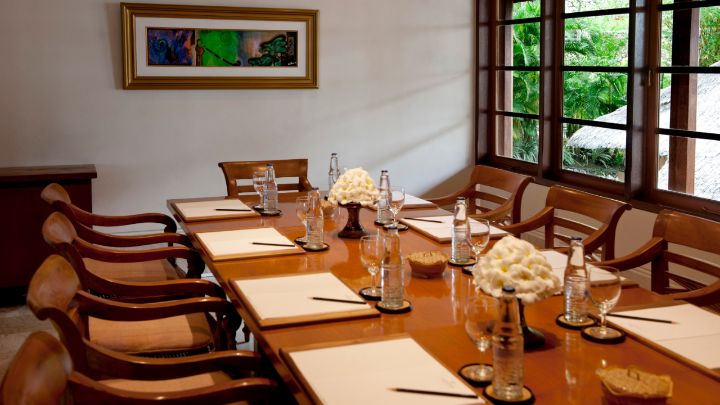 Overview
With 198 square metres (2,131 square feet) of meeting and function space and exceptional outdoor gardens, we can provide an exceptional setting for exclusive business meetings, group gatherings or very special social occasions. Functions can also be held on the foreshore, the beach and the lower pool area.


The Resort's catering staff can create menus, themes and programs for any event. Our excellent professional meeting planners complement the Resort's facilities, custom-designing agendas with uncompromising attention to detail.
Technical assistance
The Jepun Sari meeting room in Four Seasons Resort Bali at Jimbaran Bay is equipped with the following:
Professional soundboard

A variety of audio and video equipment

Wired or wireless Internet access
Our conference services manager will be happy to arrange any type of music or entertainment for meetings. Entertainment for smaller social gatherings can be arranged through our catering coordinator. Some examples include:
Keroncong Band: From the island of Java, this traditional string orchestra and vocalist perform classical Indonesian ballads that provide a soothing background for lunch or dinner.

Joged Bumbung: This flirtatious ritual begins with a welcome dance. Later a man or woman from the audience is invited to join in.

Kecak Dance: A dramatic dance of as many as 100 men that represents the search for balance between positive and negative.

Panyembrama: This welcoming dance is performed by four young girls. At the end of the dance, each girl carries a basket of flowers and sprinkles them throughout the audience. This dance is regularly performed at temple festivals to welcome visiting deities.

Trio Rindik: A three-piece group with two bamboo xylophones and one flautist.

Trio Gender: A three-piece group on metal xylophones.

Batak Band: This is a three- or four-piece band that features lively guitar music. Bataks are known for being outgoing and talented, and this band is best compared to the Mexican mariachis.

Gamelan: The word "gamelan" is strictly Javanese. A basic principle of gamelan music is that instruments with a higher range of notes are struck more frequently than those with lower ranges. Most musicians play a variety of instruments of the gangsa meatallophone family, which consist of bronze bars suspended over bamboo resonators.
Receiving and maintenance
The Resort features a full-service shipping and receiving office. All packages should be sent to the attention of the conference services manager with the group's name highlighted. There is limited space available for storage, so please time shipping to coincide with the group's arrival. Contact the conference services manager to make special arrangements for delivery of oversized packages and to coordinate shipping of post-conference materials.
Destination management companies
Our conference services manager can help accommodate your group's special requests. For detailed information, please contact the Resort. In addition, we recommend the following destination management companies:

Pacific World Nusantara
Jl. Danau Poso 51
Sanur, Bali, Indonesia
Telephone: 62 (361) 282 474
Fax: 62 (361) 281 740
Bali World Travel
Jl. Kertha Petasikan II/17
Denpasar, Bali, Indonesia
Telephone: 62 (361) 722 920
Fax: 62 (361) 723 334
Dimensions in Bali
Jl. Pulau Moyo No. 15X
Denpasar, Bali, Indonesia
Telephone: 62 (361) 729 720
Fax: 62 (361) 262 781
Welcome amenities and VIP gifts
At Four Seasons Resort Bali at Jimbaran Bay, special arrangements can be made for clients to purchase welcome amenities or gifts for their VIP guests, including:

Champage

Fruit presentation

Cake presentation

Children's amenity

Sorbet presentation

Chocolate

Assorted pastries

Late-arrival amenity

Big snack amenity

Cookie amenity

Mimpi Manis bedtime storybook

Flower arrangement

Wine

Flower petals (for bathtubs)
Note: There is a fee for all amenities, plus local tax and 10% service charge.
Spouse programs
The Resort offers a wide range of activities to suit all tastes and is ideally situated for sightseeing and shopping excursions, including:
A day of white-water rafting or sailing

A land cruise to explore the island

A day of shopping with a guide

A day being pampered at the Spa

A day learning how to cook Balinese, Indonesian and Asian cuisine at our cooking school.

Guests can also design their own "Bali As You Please" tour.
Family programs
White-water rafting

Golfing

Shopping tour to Kuta or Ubud

Sailing, cruises, cycling


Spend the day with the animals at The Bird Park, Reptile Park, Monkey Forest and Elephant Park
Discover flexible spaces that adapt perfectly to your meeting goals, along with technology that accommodates the most demanding presentation and communication requirements. Experienced Four Seasons support is on site to promptly respond to every need.
Quick Reference
Time zone
GMT +8 hours
Language(s) spoken
Although there are 583 languages and dialects spoken in the archipelago, Bahasa Indonesia is the national language of Bali. English is widely spoken in the tourist centres.

Electrical system
Local voltage is 220 to 240 volts AC. Adapters available; please request through the Concierge.

Shopping hours
Daily 9:00 am to 6:00 pm

Working hours
Monday to Friday
9:00 am to 5:00 pm
Banks and government offices are closed on Saturday and Sunday