Function Rooms
Jepun Sari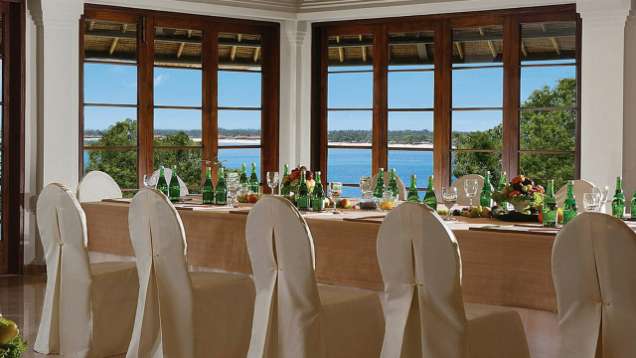 Jepun Sari is equipped with a professional soundboard, a variety of audio and visual equipment and wired and wireless Internet access.
An Exquisite Setting
Conduct your meeting under a soaring thatched roof, on a wraparound terrace and next to floor-to-ceiling glass walls that feature spectacular views across Jimbaran Bay.
Plenty of Space
Jepun Sari offers 198 square metres (2,131 square feet) of private, multifunctional meeting space. It's as flexible as it is spacious.
Natural, Tropical Light
Jepun Sari receives an abundance of light from its wraparound windows and offers spectacular views of the ocean beyond.
Seating
Classroom
Hollow Square
U-shape
Theatre
Reception
Banquet rounds
Conference/Boardroom

72
46
38
140
100
80
34

Room Features
Wired or wireless, high-speed email and Internet access
Pre-function space is available in the Jepun Sari Foyer

Location
MAIN BUILDING, BELOW LOBBY LEVEL
Size
Area
Height

305 m2 (3283 sq.ft.)
4 m (13 ft.)

Note: Height shown is actual clearance height.