For adult travellers, Bali's allure comes in the form of sandy beaches, luxurious spa treatments and cultural excursions rich with local flavour. But before you reserve the island for a romantic couple's getaway, consider its many kid-friendly offerings as an opportunity to holiday here as a family. Bali's natural landscape alone is enough to enthral youngsters – volcanoes that cast looming peaks against the skyline, jungles and wildlife sanctuaries where adventurers can (safely) interact with monkeys and elephants, and oceanfront access to every major water sport.
Now factor in all of the unique excursions and activities available throughout the destination (think temple tours and Balinese dance shows), and it's easy to envision a relaxing retreat free from the stress that comes with keeping kids amused while travelling. Here are eight Bali adventures your family shouldn't miss.
Fly a kite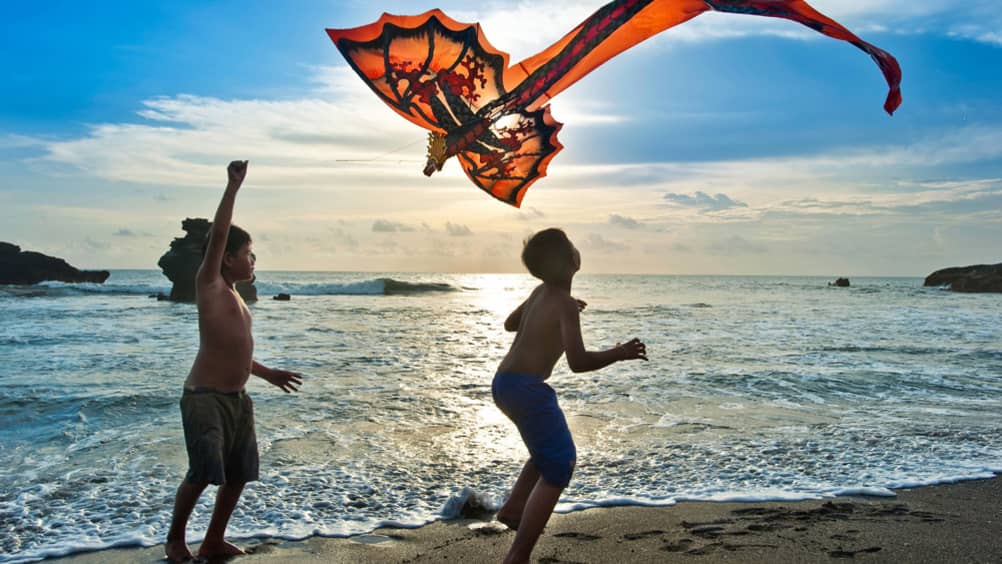 Photography Hemis / Alamy Stock Photo
Look up into the sky on almost any day on the island and you'll likely see handmade kites (some up to 10 metres/32 feet long) floating in the breeze. Flying kites is a centuries-old tradition in Bali – thought to deliver messages to the Hindu gods asking for abundant harvests – and almost every child here knows how to craft their own. At Four Seasons Resort Bali at Jimbaran Bay , families can learn the intricate art of building a kite's framework from bamboo, attaching plastic and strings before launching their flying machines from the beach.
Get airborne
When the kids are ready to take to the sky themselves, head to the Bali Treetop Adventure Park, located in the Bali Botanic Garden. Here, seven airborne circuit courses challenge visitors to travel from tree to tree via ladders, nets and bridges. The courses vary in height and difficulty and are safe for children ages 4 and older.
Eat local cuisine
At the Resort's Balinese Cooking School, children and adults can attend morning classes where they'll tour a local market before learning to make authentic Balinese, Asian or Indonesian fare. The best part about playing chef? The mouth-watering menus are served up for lunch at the end of each session. In case anyone in your family has a sweet tooth, the school offers a complimentary pastry class to kids and teens every Wednesday.
Go bird-watching
Venturesome travellers will appreciate the many attractions that showcase Bali's abundant wildlife. At Bali Bird Park, families can walk through aviaries that have been designed to replicate the natural surroundings of jungles and rainforests found in Indonesia, Latin America and South Africa. While you scan the nearly 1,000 birds that have found sanctuary here, keep an eye out for the Bali starling, one of the rarest birds in the world.
Step into the Animal Kindgom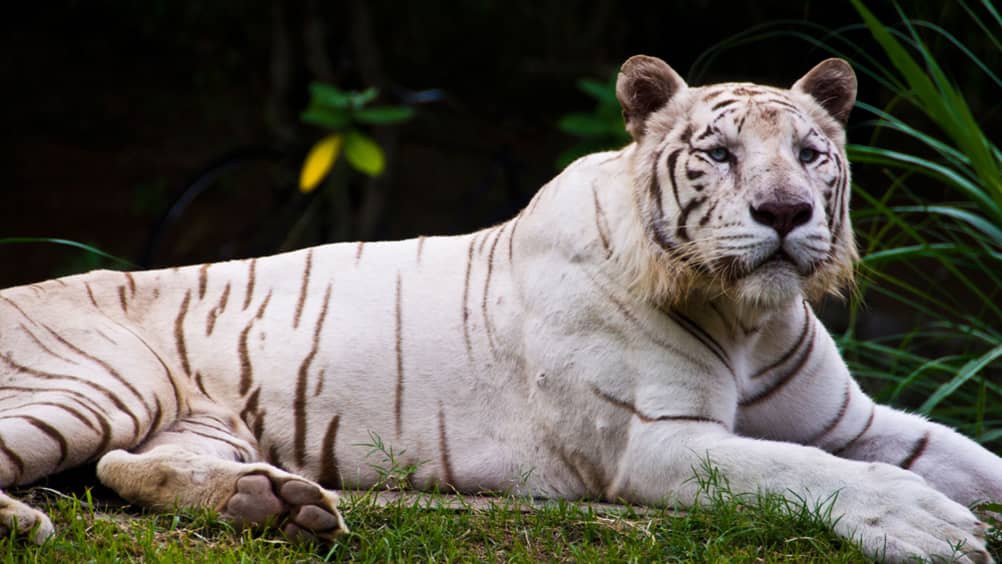 Photography Tim Rock / Alamy Stock Photo
Continue your family's walk on the wild side at the Bali Safari and Marine Park, where visitors can witness more than 60 species of animals representing different regions around the world. Expect to see endangered species like the Komodo Dragon and the orangutan as well as wild cats like the Indonesian leopard, who lounges in 40 hectares of beautifully landscaped habitats. A forerunner in conservation initiatives, the Park also provides sanctuary to elephants rescued from conflict in Sumatra.
Make a splash
If your troop prefers surf to turf, we recommend the Sea Walker tour, courtesy of Club Aqua. During this adventure, participants (who must be more than nine years old and taller than 140 cm/4 1/2 feet) don helmets that allow breathing while they walk on the seabed amid coral outcrops and hundreds of brightly coloured fish and turtles. Families with younger children should check out Waterbom Bali, one of the island's best waterparks and home to more than 21 adrenaline-pumping water slides.
See a show
Ready to sit back and relax after a full day of activities? After dinner at the Resort (capped off with roasted marshmallows courtesy of the bonfire held at the Jimba Club each day), head to the Bali Nusa Dua Theatre to see Devdan . This spectacular show of music, dance and acrobatics is inspired by cultures around Indonesia and will engage kids immediately – the production begins with two children who break away from their tour group to explore Bali on their own and discover a treasure chest.
Four Seasons Resort Bali at Jimbaran Bay