Jakarta is the capital and bustling commercial centre of Indonesia. Yet the city also offers a rich sampling of the cultures found on the country's many islands, as well as a lively nightlife and dining scene. To help make the most of your next trip, we asked the Concierge team at Four Seasons Hotel Jakarta to share their recommendations for the best things to see and do in Jakarta.
Gourmet Indonesia
Many foods now common throughout Asia originated here, including satays and sambal, and Indonesian cookery is a melting pot of spices, coconut milk and the omnipresent peanut sauce. The Menteng neighbourhood in central Jakarta, famous for its Indonesian restaurants, is the best place to try these authentic dishes. Bunga Rampai and Tugu Kunstkring are especially good, and do not miss rendang, a meaty, curry-like stew that is a true local specialty.
Indonesia in miniature
Given that the country has more than 17,000 islands, it is almost impossible to see all of Indonesia. The next best thing is Taman Mini Indonesia Indah (Beautiful Indonesia in Miniature Park), a theme park spanning over 100 hectares (247 acres) on the outskirts of Jakarta, with nearly every island reproduced in miniature around a central lake. Additionally, pavilions representing each province feature traditional architecture, a display of cultural items and other exhibits.
Hot nightlife
Jakarta offers a surprisingly diverse after-hours scene. One rooftop hot spot is SKYE, located on the 56 th floor of the Menara BCA building. CORK & SCREW, located in the Thamrin and SCBD area, has the most complete wine selections in Jakarta. Some other after-dark locales: LOLA - Espíritu y Libación and Monty's in the Senopati area, just 10 minutes from the Hotel.
Unique to Jakarta
The Jalan Surabaya Antique Market stretches for one third of a mile through the streets of the upscale Menteng neighbourhood and is a great place to shop for antiques and faux-tiques. For the best view of this large, bustling city, head to the top of the 132-metre (433-foot) Monas, the National Monument topped with a gold-foil flame, and savour the panoramic vista.
Command performance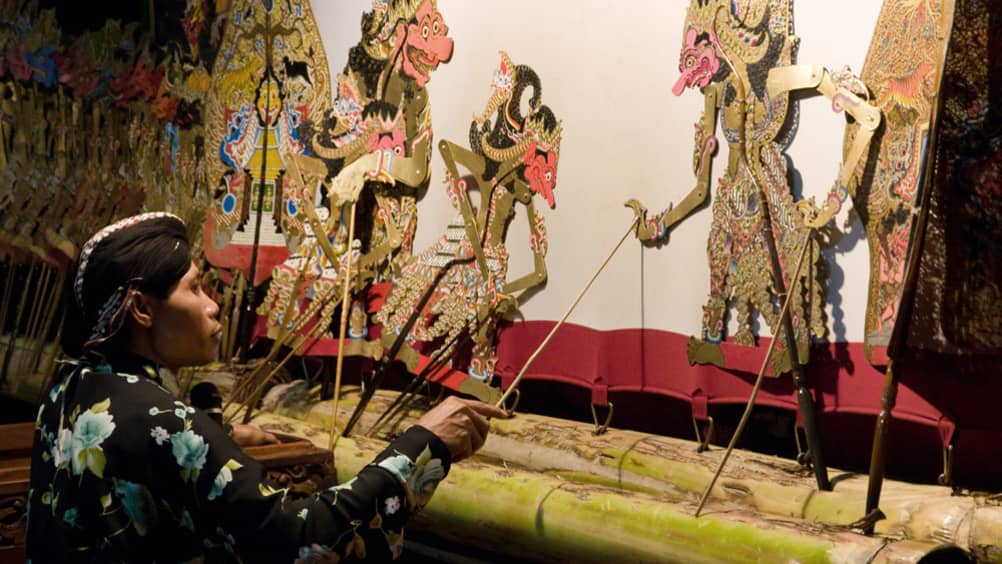 Photography Eitan Simanor / Alamy Stock Photo
Wayang kulit, or shadow puppet theatre, is an Indonesian hallmark and one of the most unusual cultural performances anywhere. Entire epics are "acted" using these elaborate and ornate puppets, and there is no better place to see a show than in the nation's capital. The National Puppet Museum (Museum Wayang) has a vast collection of all styles of puppets, and every Sunday morning they stage performances. Southeast Asia's largest performing arts centre, Taman Ismail Marzuki, also features wayang theatre regularly.
Homeward bound
Many people take the opportunity to shop for home furnishings and decorative items while in Indonesia. The Concierge can set up a private shopping excursion or arrange introductions with exclusive local furniture designers, as well as help organise the shipping of purchases to your home.
A perfect day in Jakarta
Have the Concierge arrange a morning tour in a private car – with a driver and guide – to get a sense of this huge city. After lunch, try a shopping spree at one of the city's premier shopping venues: Grand Indonesia, Pacific Place, Plaza Senayan or Senayan City. And in the evening, visit Proof and wind down with live music.