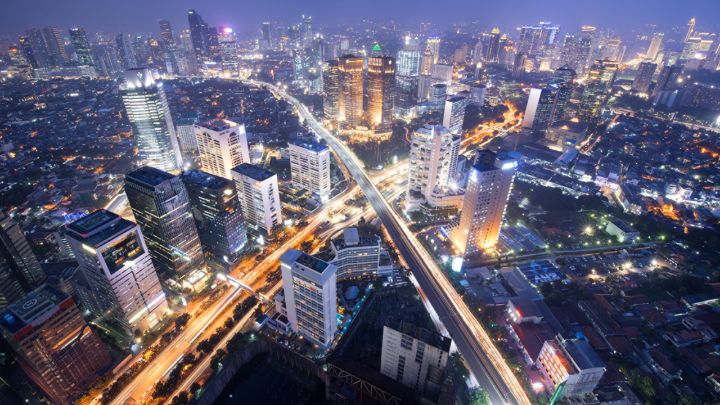 General information
One of Southeast Asia's largest cities, Jakarta's estimated population is more than 10 million people – and more than 28 million live within its metropolitan area.
Fanning out from around Merdeka (Freedom) Square, which contains the gold-tipped landmark of the National Monument, Jakarta provides a powerful contrast between Western-style skyscrapers, modern urban lifestyles and traditional Indonesian culture, offering visitors fascinating history, excellent shopping and exciting nightlife. With its strategic location, Jakarta is also the principal gateway to discovering the rest of Indonesia.
A prominent landmark on Jalan Gatot Subroto, Four Seasons Hotel Jakarta is ideally placed in South Jakarta, offering direct access to Sudirman Central Business District, close proximity to Mega-Kuningan and easy access to the international airport. The Hotel is the cornerstone of the most sophisticated office tower to open in Jakarta – award-winning architectural masterpiece Capital Place, which offers world-class facilities.
Please note that passports must be valid for a minimum of six months from the date of arrival for entry into Indonesia. Please check with your local Indonesian government representative for visa requirements.
Seasonal highlights IN JAKARTA
June
Jakarta Anniversary: Jakarta offers visitors a rich array of events and festivals throughout the year that highlight its unique cultural identity and history. One of the highlights in Jakarta is the city's anniversary on June 22, when the capital city celebrates its existence with art and cultural festivals and parades of Ondel-Ondel – a 2.5-metre-tall (8-foot-tall) puppet couple made of woven bamboo.

Ramadan: June also marks the biggest festive period of the year for Jakarta, as the holy month of Ramadan begins.
June–July
Jakarta Fair: The Jakarta Fairgrounds come alive for three weeks to celebrate the anniversary of the founding of the capital city. There is a wide variety of entertainment focusing on the history and culture of Jakarta.


August
Independence Day: This holiday is celebrated with a flag-raising ceremony in Merdeka Square and carnivals and cultural shows throughout the city.
Public Holidays
| | |
| --- | --- |
| New Year's Day | January 1 |
| Chinese New Year | January 28 |
| Nyepi (Hindu New Year) | March 28 |
| Good Friday | April 14 |
| Ascension of Muhammad SAW | April 24 |
| Labour Day | May 1 |
| Ascension of Jesus Christ | May 25 |
| Waisak Day (Buddha's Birthday) | May 10 |
| Hari Raya Idul Fitri (End of Ramadan) | June 26 |
| Indonesia Indpendence Day | August 17 |
| Hari Raya Idul Adha | September 1 |
| Islamic New Year | September 21 |
| Birth of Prophet Muhammad | December 12 |
| Christmas | December 25 |
Modern, dynamic and expanding, the Indonesian capital of Jakarta sprawls over 25 square kilometres (16 square miles) on the island of Java. Indonesia comprises thousands of islands spread between the Pacific and Indian oceans. Originally part of a Hindu kingdom, more than 300 ethnic groups account for Indonesia's linguistic, cultural and religious diversity, with Jakarta being the melting pot for each of these groups.
Quick Reference
Time zone
GMT +7 hours
Language(s) spoken
Bahasa Indonesia is the official language. English is frequently used in commerce.
Electrical system
The local voltage is 220 volts, 50 cycle. Adaptors are available at the Hotel upon request.
Shopping hours
Sunday to Saturday
9:00 am to 9:00 pm
Working hours
Monday to Friday
8:00 am to 5:00 pm