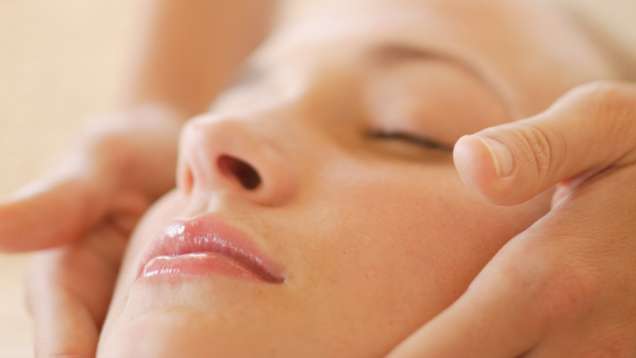 Elevation Signature Facial
This uplifting treatment begins with a triple exfoliation utilizing the body's own age defying wisdom. After a massage with nourishing zinc, copper, shea butter, and aloe, you are then masked in a blend of proprietary herbs and oxygenating chlorella to visibly tighten, tone and improve the appearance of collagen production. A misting of mountain air, comprised of cedarwood, bay laurel, and clary sage, calms the mind and grounds the spirit as an application of powerful plant stem cells and highly active peptides help to correct and prevent the visible signs of aging. Finished with an application of B Vitamins and hyaluronic acid, the result is an ageless radiance capable of moving mountains.
50 Minutes - 220 USD
50 Minutes
USD 220
Call 1 (307) 732-5600
Exquisite Gemstone Facial
Gemstones radiate a life force of sacred energy to bring harmony, balance, and transformation. This facial harnesses the power of precious gemstones to restore the mind and body, and rejuvenate the skin, leaving it visibly lifted, revitalized, and luminous. The luxurious skin therapy activates radiance from within using microcrystal exfoliation, multiple masks, and custom-tailored serums. Throughout this ritual you will receive intentional massages with exquisite aromatherapy oils bringing the body into a state of complete tranquility.
80 Minutes - 320 USD
80 Minutes
USD 320
Call 1 (307) 732-5600
Oxygen Infusion Facial
This results-driven facial includes the use of hyperbaric oxygen and a serum consisting of skin-renewing botanicals and hyaluronic acid. Using oxygen under light pressure aids the delivery of these age-defying ingredients in this modern treatment. Oxygen promotes natural collagen and elastin production, improving skin texture while visibly smoothing fine lines and wrinkles. It is an ideal treatment right before a special event, for jet lag or whenever an amazing glow is desired.
50 Minutes - 230 USD
50 Minutes
USD 230
Call 1 (307) 732-5600
The Essential Facial
50 Minutes - 195 USD
80 Minutes - 280 USD
50 - 80 Minutes
USD 195 - 280
Call 1 (307) 732-5600
Gentlemen's Facial
The perfect way for men to combat the aggressive effects of shaving, pollution and environmental damage. After careful evaluation by your aesthetician, this facial is customized with specific treatments and products to cater to the unique needs of your skin.
50 Minutes - 195 USD
80 Minutes - 280 USD
50 - 80 Minutes
USD 195 - 280
Call 1 (307) 732-5600
Pure Radiance Age Defying Facial
100 Minutes - 395 USD
100 Minutes
USD 395
Call 1 (307) 732-5600
Note: Prices and treatments are subject to change without notice.