Camere & Suite
Bungalow sul mare con piscina
We're sorry, Maldives does not support online booking at this time. Please call +(960) 66 00 888 for assistance.
Immergiti direttamente nella natura dal giardino lussureggiante del tuo bungalow presso il Four Seasons Resort Maldives di Landaa Giraavaru, prospicente la laguna.
Perché te ne innamorerai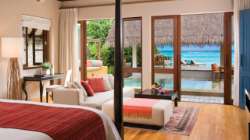 Letto con vista
Goditi una vista panoramica senza limiti dell'oceano dal comfort del tuo letto, all'interno di ville così private da non dover mai tirare le tende.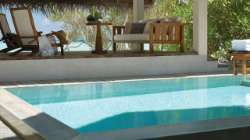 Salotto all'aperto
Pranza e rilassati nel tuo favoloso bale (tradizionale capanna con tetto di paglia) all'aperto, rinfrescati nella tua piscina e asciugati con i raggi del sole nel tuo giardino privato.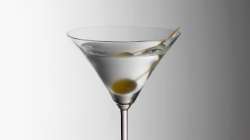 Bagno contemporaneo
Bagni eleganti, rifiniti con cemento lucidato con biossido di titanio, danno spazio ai tuoi abbondanti bagni rilassanti, alle tue docce formato famiglia all'interno e alle docce nel giardino all'aperto.

Famiglie ed esigenze speciali
Il Four Seasons Resort Maldives di Landaa Giraavaru accoglie le famiglie con camere adatte ai bambini, disponibili su richiesta. Per pianificare al meglio il tuo soggiorno, contatta direttamente il resort. Su richiesta sono disponibili sistemazioni per non fumatori e accessibili ai disabili.
Check In Time & Policies
| | |
| --- | --- |
| Check In: | 14:00 |
| Check Out: | 12:00 |
Early Arrivals and Late Departures
Se prevedi di arrivare presto e desideri poter andare immediatamente in camera, ti consigliamo di prenotare la camera la notte precedente per usufruire di un accesso immediato. Analogamente, in caso di partenza ritardata, prenotare una notte aggiuntiva ti garantirà l'accesso alla camera fino al momento della partenza. Qualora tu decida di non effettuare la prenotazione, saremo lieti di custodire i bagagli e di mettere a disposizione le strutture fitness per rinfrescarti prima della partenza.
Guaranteed Reservations and Deposits
Con le prenotazioni garantite, Four Seasons ti riserva una camera anche se effettui il check-in dopo le 18:00. In assenza di camere disponibili, provvederemo a offrirti una sistemazione in un altro hotel a nostre spese e il trasporto da e per il Four Seasons (ove ragionevole). Tutte le prenotazioni effettuate tramite il sito web devono essere garantite con una delle principali carte di credito. Per alcune tariffe e date di arrivo potrebbe essere richiesta una cauzione. Ti invitiamo a verificare tutti i requisiti di cauzione al momento della prenotazione.
La cancellazione della prenotazione per una camera deve pervenire almeno 45 giorni prima della data di arrivo prevista, e potrebbe variare in base alla data di arrivo e al tipo di camera. Qualora la cancellazione di una prenotazione garantita non pervenga entro la data richiesta, il Resort addebiterà il costo della sistemazione in base alla data prevista di arrivo e al tipo di camera. Per maggiori dettagli sulla politica di cancellazione e i requisiti di cauzione, ti invitiamo a verificare al momento della prenotazione.
American Express, Visa, MasterCard, JCB, China UnionPay

Il Four Seasons Resort Maldives di Landaa Giraavaru non prevede supplementi per i bambini sotto i 12 anni che soggiornano nella camera dei genitori o tutori (se lo spazio disponibile lo consente). Per prenotazioni e maggiori informazioni, ti invitiamo a contattare direttamente il resort.
In camera
Servizi e comfort
Letti e bagno
Scelta di cuscini in piuma o ipoallergenici e di trapunte su richiesta
Televisore al plasma da 42 pollici con canali satellitari
Sistema A/V con lettore DVD e cavo MP3
Prodotti da bagno naturali firmati ila
Doccia all'aperto
Servizi del resort aggiuntivi
Percorso yoga dell'energia (senza istruttore)
Offerta educativa e interattiva del Marine Discovery Centre e centro di riabilitazione per tartarughe
Snorkeling, kayak, windsurf e navigazione in catamarano
Consulenza per stabilire il proprio dosha con il nostro medico ayurvedico
Immersione di orientamento (45 minuti)
Conversazioni sullo stile di vita presso il nostro Ayurveda Wisdom Centre
Club dei bambini con i programmi 'Lasciapassare per l'avventura' e 'Missione: Landaa Giraavaru'
… e tramonti incantevoli
Palestra e centro fitness aperti 24 ore su 24
Servizi in camera aggiuntivi
Servizio di pulizie due volte al giorno e servizio serale di riassetto della camera
Frutta fresca di giornata, acqua in bottiglia Landaa Spring, tè e caffè
Accesso a Internet in tutto il resort per due dispositivi
Fondamentali per la spiaggia per bambini fino a 12 anni