My Four Seasons
Please Don't Call It A Carpet: The Kilim Unravelled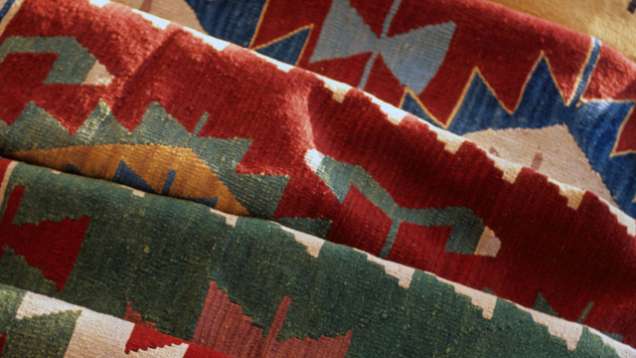 Despite increasing airline restrictions and baggage fees, an enduring favourite of tourists remains the beautifully woven and intricate – if a tad difficult to squeeze into a tiny suitcase – Turkish carpet. Sold nearly everywhere in Istanbul, from upscale outlets to tiny roadside bazaars, such carpets serve as both a decorative and practical reminder of a time spent abroad.

Called "kilims" by the locals, the Turkish carpet is, in fact, not a carpet at all. Rather, it's a hand-woven rug made from either wool or cotton yarn. The warp (vertical strands) and the weft (horizontal strands) are tightly interwoven to create a flat surface free of pile (that which makes a carpet fluffy).

Because kilims lack pile, they're also more delicate, which makes it difficult to find very old examples. One of the oldest kilims is not actually a kilim, but a depiction of a kilim on a piece of pottery dating back to 7,000 BC. The oldest actual kilim is thought to be a from the 5th century BC and contains about 347 knots per square meter (255 per square inch), an impressive achievement considering the magnifying glass wouldn't be invented until thousands of years later.

Kilims weren't just floor coverings. They were used as clothing, bedding and even tents. Ancient nomads loved the kilim's portability and versatility, which made them well suited to long voyages, and decorated them with various colors, patterns and shapes.

Today, kilims are a popular tourist export as well as design influence. They can be found in most Turkish homes and businesses, including each of the guest rooms and suites at the Four Seasons Istanbul at Sultanahmet.

Interested in buying a kilim of your own? They're becoming more and more collectible in the field of modern antiques. If you're buying for décor, you'll find many vendors to choose from. If, however, you're looking to purchase for investment purposes, it's important to find a reputable dealer. Let our Concierge give you some tips, and help you make the right connections. Whether you're purchasing for fun or profit, the kilim's beauty and history are not to be overlooked.
more four seasons stories