My Four Seasons
From Russia (and Istanbul) with Love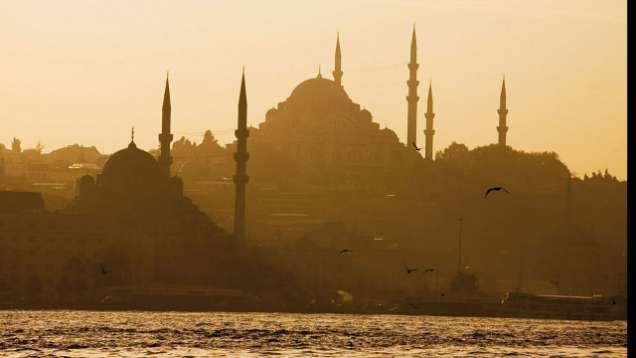 A tour through Istanbul's landmarks is always exciting, but it can feel like an epic pilgrimage of sorts for James Bond fans. Two of the films in the Ian Fleming spy series have been filmed here, including "The World is Not Enough" and "From Russia with Love."

The latter, the second in the 23-films-and-counting series, views almost like a travelogue for the city. Shot in 1963, From Russia with Love tells the story of Agent 007's search for a Russian decoding machine sought by the evil global terrorist organisation SPECTRE. Along the way, Bond falls in love with a Russian beauty whom he attempts to help defect as the two are chased around Istanbul.

Some of the famous sights you can see in the film include:


The horse grounds at Meydan

The Bay of Pendik

The Blue Mosque

The Bosphorous Strait (Bond cross-examines his lady spy friend on the bridge)

The Hippodrome

The Hagia Sophia (This where Bond gets blueprints for the Russian consulate)

The Grand Bazaar

The Sirkeci Railway Station (The final stop for the real-life Orient Express, which ceased operation in 2009. Over 3,500 people showed up to watch this scene as it was filmed, slowing production)

The Galata Bridge

The Basilica Cistern (Where Bond escapes with the decoding machine in a moment of triumph.)

Though a good portion of the film was shot in Istanbul, at least 70% of From Russia with Love had to be shot in Great Britain in order to qualify for government funding. Because of that, the filmmakers had to get creative. A gypsy camp scene that was supposed to take place in Topkapi (the site of an Ottoman palace) was actually shot in Spain after an attempt to shoot in Great Britain failed. Wild rats weren't permitted in filming at the time, and an attempt to paint domesticated white rats with cocoa didn't work out as intended.

Those interested can take a special James Bond tour of Istanbul through a number of local groups and guides. It's both an opportunity to pay homage to a movie icon as well as see how the city has evolved in the last 40 years. If that sounds like too big of a commitment, head over to the Four Seasons Istanbul at Sultanhment and grab a drink (may we suggest a martini – shaken, not stirred?) on the terrace. On a clear day, the Blue Mosque, Hagia Sophia, and more are all visible from the rooftop. Mr. Bond would be proud.