My Four Seasons
Crime, Punishment and a Paradise Reborn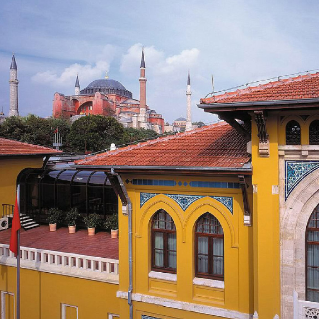 More Four Seasons Stories
With bread and water in lieu of room service and a harsh stone slab standing in for a king-size bed, a prison cell is about as far as it gets from luxury accommodations. Yet, that's precisely what Four Seasons Hotel Istanbul at Sultanahmet used to be back just over a century ago.

Sultanahmet Prison, or Sultanahmet Cezaevi in Turkish, began construction in 1918, a prime example of Turkish neoclassical architecture with an emphasis on pointed arches, ornate tiles, dramatic domes and towers. The prison's creator was Mimar Kemaleddin Bey, a prominent architect of the period and father of the composer İlhan Mimaroğlu. Bey's portrait can currently be seen on 2009 versions of the Turkish 20-lira banknote.

The first jail of its kind in Istanbul, Sultanahmet Prison was located (conveniently or inconveniently, depending on whom you ask) next to the city courthouse. Along with the usual male prisoners, women and youths were occasionally detained here, along with a number of famous artists and political figures, including Mihri Belli, a communist leader; Orhan Kemal, a novelist; and Aziz Nesin, a controversial humourist who published over 100 books.

You can still see elements of the original prison structure throughout the Hotel:


Hand-painted tiles in the lobby and reception areas as the floor tiles by the elevators

Original wooden doors and arched hallways

Marble pillars, some with carvings by inmates

The landscaped courtyard, which once served an exercise yard


Want to know more? Ask the Concierge. Both multilingual and fluent in hotel history, he'll be glad to tell you more.