Dining
Executive Chef Savas Aydemir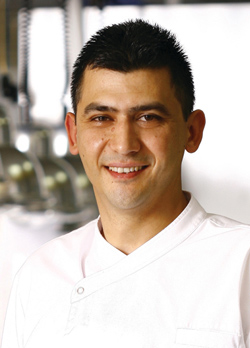 There was never much doubt Savas Aydemir would become a chef. Born in Bolu province, renowned as a culinary destination and wellspring of Turkish master chefs, the executive chef of Four Seasons Hotel Istanbul at Sultanahmet continues his family's culinary tradition that includes his father, an uncle and three brothers, the eldest of which excels on the five-star hotel circuit in Istanbul and the United States.

Aydemir's menu features international and Turkish specialties created from mostly local product, including fresh duck, goat cheese and wild mushrooms. "We've been working closely with local suppliers growing baby vegetables especially for us," he says, noting that his kitchen tends an on-site herb garden for his fragrant dishes.

Though he admits to spending half his time in the office, Aydemir long ago learned the value of give and take with those doing the cooking. "When we do new things, it's always a team effort," he says. "They are learning. I am inspiring. Everybody benefits from being involved."

A glance at Aydemir's résumé reveals a long line of hotel restaurants. It's a backdrop he prefers. Private restaurants tend to be constrained and narrow in focus, he says. "If you want to work with the best product, hotel restaurants are the place to do it." No matter how lofty a chef's perch, he notes, there is always more to learn. To that end, Aydemir regularly takes his team out to draw inspiration from the Istanbul restaurant scene and ventures out on his own for work-study programs at other Four Seasons properties. "You have to continue to taste and to train," he says. Doubtless his eldest brother approves.