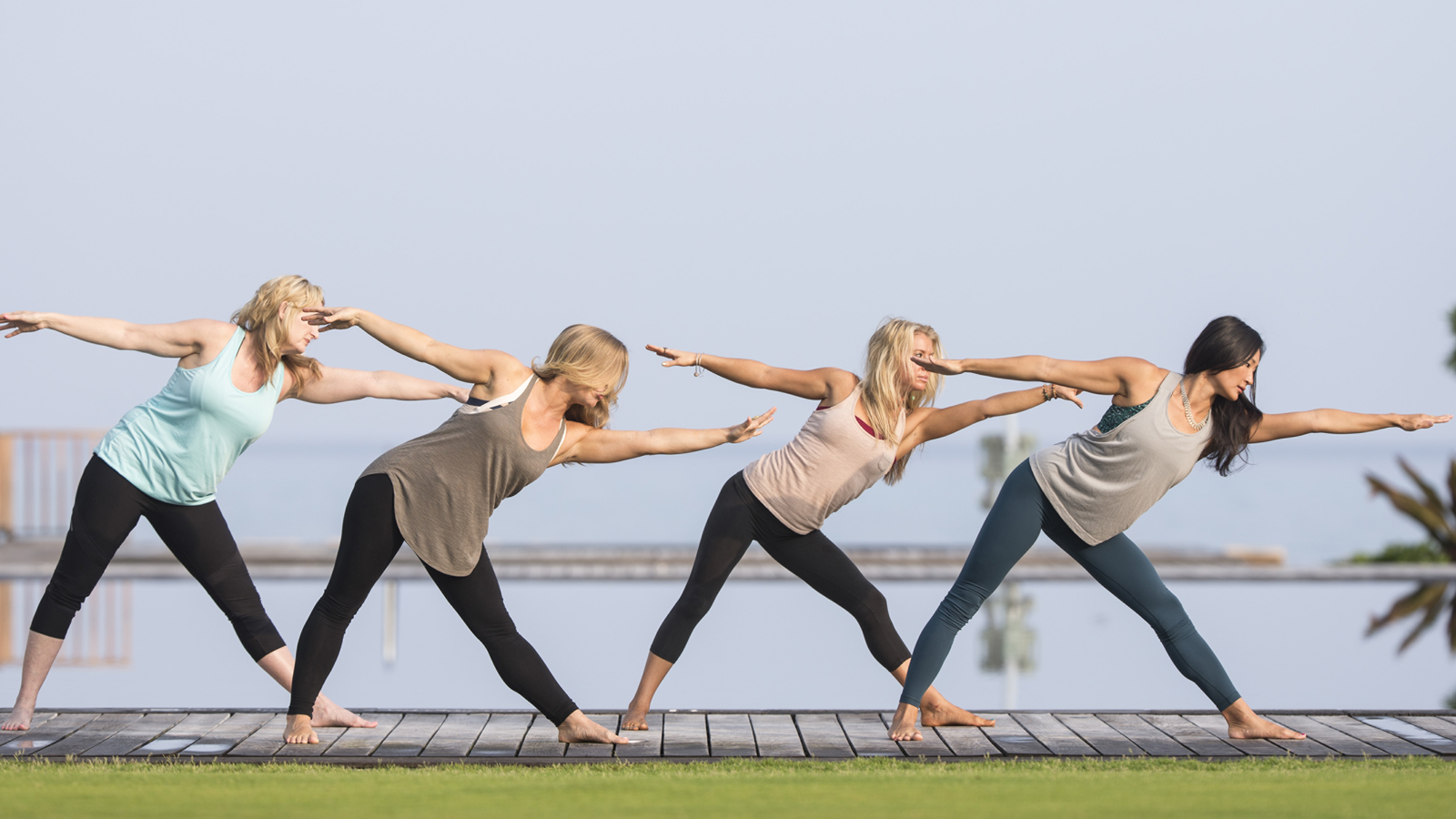 Join us in celebration of Global Wellness Day on June 9, 2018 – an international day focused on living well, both physically and spiritually with the mantra "one day can change your whole life." Beginning Saturday, June 9, 2018, the Resort will host a comprehensive two-day itinerary for guests and Hualalai Club Members highlighting a multitude of wellness offerings. Hike with a Natural Resources Marine Biologist to ancient Hawaiian salt ponds and incorporate harvested salt into dishes during a cooking class led by Executive Chef Thomas Bellec. Local salt will also be used in the Salts of the Ocean Body Treatment, available at the Spa throughout the weekend.
Complimentary fitness classes and special offerings throughout the Resort's five dining outlets are also available. Executive Chef Thomas Bellec's multi-course Global Wellness Day dinner features local ingredients. Each morning 'Ulu Ocean Grill + Sushi Lounge and Hualalai Trading Company will feature BioAstin Hawaiian Spirulina smoothies, a natural superfood supporting immune and cardiovascular health. Alaka'i Nalu, the Resort's on-site ocean experts, will guide a stand-up paddleboard excursion in Uluweuweu Bay to start the morning. Hualalai Spa and Sports Club offer a jam-packed fitness schedule with unique classes including floating yoga, rock climbing, meditation and poolside yoga.
The Global Wellness Day package is available from Saturday, June 9 through Monday, June 11, 2018. The package includes a USD 100 Resort credit which can be used towards any of the Global Wellness Day activities. Advance reservations are required for all activities. To inquire about reservations or for more information about the Global Wellness Day schedule of events please call (808) 325-8000.
Saturday, June 9 – Global Wellness Day
7:00 am
Sports Stretch*
7:00 am – 8:00 am
Group SUP paddle out of Uluweuweu Bay with Alaka'i Nalu*
8:00 am
CycleFit Circuit*
8:00 am
Core Centred Yoga*
9:00 am – 3:00 pm
Top Rope rock climbing at Climbing Wall*
9:15 am
Cardio Barre Fusion*
10:30 am
Advanced Yoga*
10:30 am
Hot Yoga*
10:45 am
BogaFit Floating Fitness*
12:00 noon
BogaFit Floating Fitness*
2:00 pm – 3:00 pm
Wellness talk given by Dr. Cheri Wood with light bites
by Chef Bellec at Herb Garden*
7:00 pm – 9:00 pm
Healthy Set Dinner at 'Ulu Ocean Grill with
Chef Bellec (USD 150)
Sunday, June 10
7:00 am
Morning Walk*
8:00 am
CycleFit*
8:00 am
Core Centred Yoga*
9:00 am – 10:00 am
Salt Flat hike with a marine naturalist (meet at King's Pond)*
10:30 am
Hot Yoga*
10:30 am
Cooking Class/lunch at 'Ulu Ocean Grill with
Chef Thomas Bellec using Hawaiian sea salt (USD 115)
10:45 am
BogaFit Floating Fitness*
12:30 pm
Advanced Yoga*
5:30 pm
Sunset Yoga*
*Complimentary class: All activities require advanced reservations by calling the Concierge.
All proceeds from non-complimentary classes will be donated to Hawaiian Legacy Hardwoods, a local non-profit dedicated to the health of Hawaii Island through the reforestation of native Hawaiian trees.