Function Rooms
Hualalai Ballroom A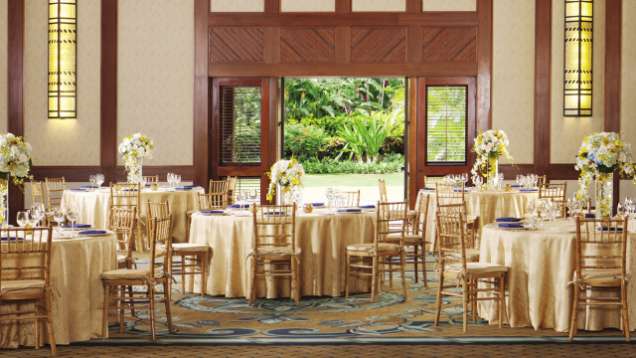 Hualalai Ballroom A opens to the Garden Lawn, via a trellis-covered terrace, and also to the large pre-function foyer.
Décor
Rich, dark woods with contrast earth-tone walls
Floor coverings feature a lively pattern
Ambience
Room opens to the Garden Lawn and the large pre-function foyer.
Trellis-covered terraces leading to the Garden Lawn
Leading Edge Amenities
Built-in screens and drape kits
Video cameras, video projectors, video players
Microphones, mixers, amplifiers
Seating
Classroom
Hollow Square
U-shape
Theatre
Reception
Banquet rounds
Classroom with rear screen
Banquet with rear screen

100
72
57
200
300
180
100
120

Room Features
Breakout rooms available with this room
Pre-function space available with this room

Location
GROUND FLOOR
Size
Area
Dimensions
Height

284 m2 (3055 sq.ft.)
19.8 x 14.3 m (65 x 47 ft.)
5.4 m (17.6 ft.)

Note: Actual clearance height is 17 feet (5.2 metres).