Hualalai, on Hawaii's Big Island, is a dramatic mix of fine white sand, dazzling turquoise ocean and black-lava landscapes. A destination of enchanting natural beauty, this area is the cradle of Hawaiian civilisation. We asked Cindy Asada, Director of Guest Relations at Four Seasons Resort Hualalai, to share her top recommendations for exploring the island – from off-the-beaten path hiking excursions to where to sip some of the area's famously rich Kona coffee.
Shopping, Hawaiian-style
Unique shopping opportunities begin right at the Resort, where the Seaside Luxe boutique carries a range of Hawaiian-inspired fashion, from Missoni dresses to stunning geode jewellery from Kimberly McDonald. A few miles up the Kohala coast at Waikoloa's Kings' Shops, Under the Koa Tree showcases products made from a variety of beautifully grained Hawaiian woods, including jewellery boxes, combs, frames and bowls. Another shopping excursion not to miss is a trip to nearby Holualoa Village, a quaint town turned artist's enclave filled with local shops and galleries.
Exploring in Hawaii
Pu'uhonua o Honaunau National Historic Park is a great place to learn about Hawaiian life in ancient times. Set on a sheltered coral bay, it housed the ali'i (chiefs) and provided sanctuary to defeated warriors and those who would otherwise have been killed for violating sacred laws. Next door is a popular snorkelling area where you're likely to spot numerous turtles.
Hiking is a great way to get off-the-beaten track. The Kohala Waterfalls Adventure offered by Hawaii Forest and Trail is an easy, all-ages excursion perfect for families. After a scenic drive up through the plantation towns of North Kohala, there's a 1.5-mile (2.5 km) loop trail that features a relaxed walk, dramatic views of Pololū Valley, scenic sea cliffs and cascading waterfalls.
Tastes of the Big Island
Kona coffee, grown only on the Big Island's Kona coast, is world-famous for its smoothness and rich body. (Tip: Avoid anything labelled "Kona blend," which contains only a small percentage of real Kona.) Many growers offer tours and tastings; one of the best is Greenwell Farms, where visitors can track coffee from tree to cup.
Though not as celebrated as coffee, chocolate is also grown and produced locally. The Original Hawaiian Chocolate Factory, just a few miles outside Kona town, offers reservation-only tours that follow production from cacao pods to finished product.
Experience natural island sites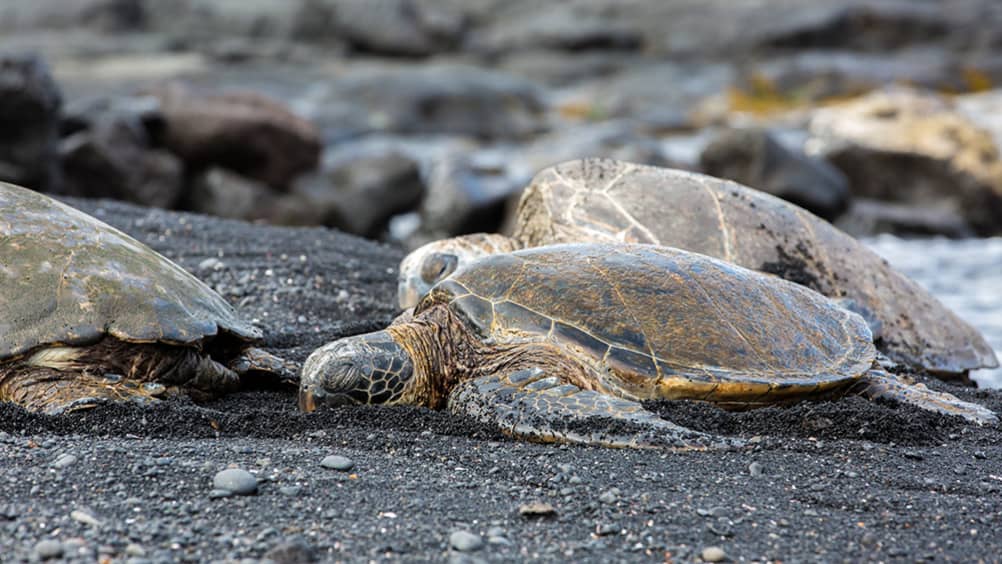 Photography James Weyand / Thinkstock
At around 14,000 feet (4,205 metres) above sea level is the summit of dormant Mauna Kea volcano, which is topped by the famous Mauna Kea Observatories and—usually in winter—snowfields. A variety of nature tours are offered on the mountain (the Resort's Concierge can arrange private tours of Mauna Kea and the volcanoes), and stargazing is possible a bit lower down the slope at the Onizuka Center for International Astronomy, located at a more easily tolerable altitude of 9,200 feet (2,800 metres). Visit Volcanoes National Park at the south tip of the island to peer into the smoking crater of Kīlauea volcano, and, if your timing is right, watch glowing red lava pour into the sea.
Water adventures in Hualalai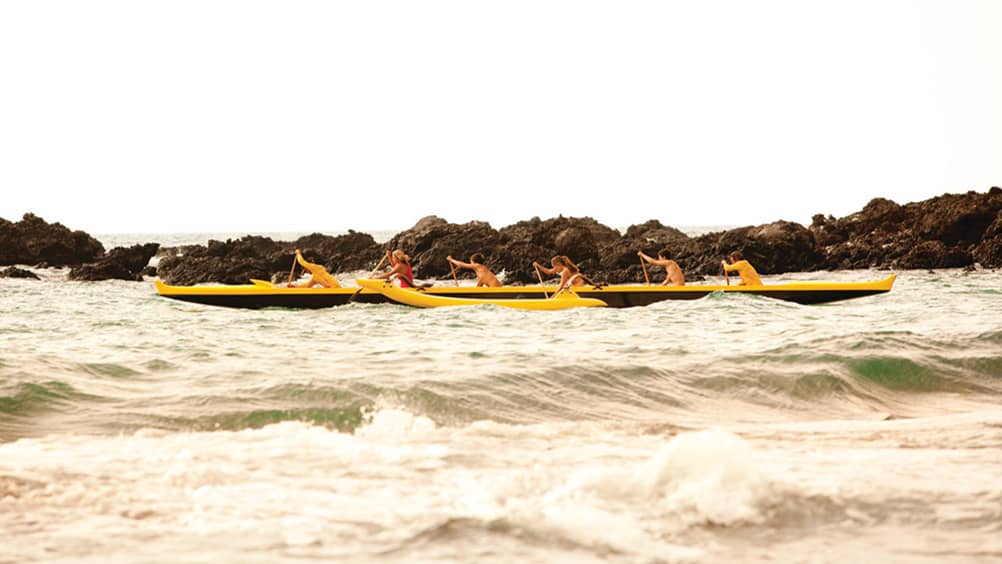 Photography courtesy Four Seasons Hotels and Resorts
Two of the most popular ocean-going activities on the Big Island are whale watching and snorkelling. Between December and May, humpbacks and other whales are often seen frolicking in the warm waters near the Resort. To observe these 40-ton cetaceans up close, ask the Concierge to book a half-day cruise.
The Big Island also has superb snorkelling; visibility can be up to 100 feet (30 metres), and you'll swim amidst tropical fish and corals. Book your own snorkelling adventure through the Resort, which uses a 28-foot (8.5 metres) ribcraft to reach secluded reefs and beaches. Outrigger canoe paddling, a traditional Hawaiian method of transportation, is highly popular once again, this time as a sport. The Resort offers lessons and excursions in both two- and six-person outriggers.
Tee time in Hualalai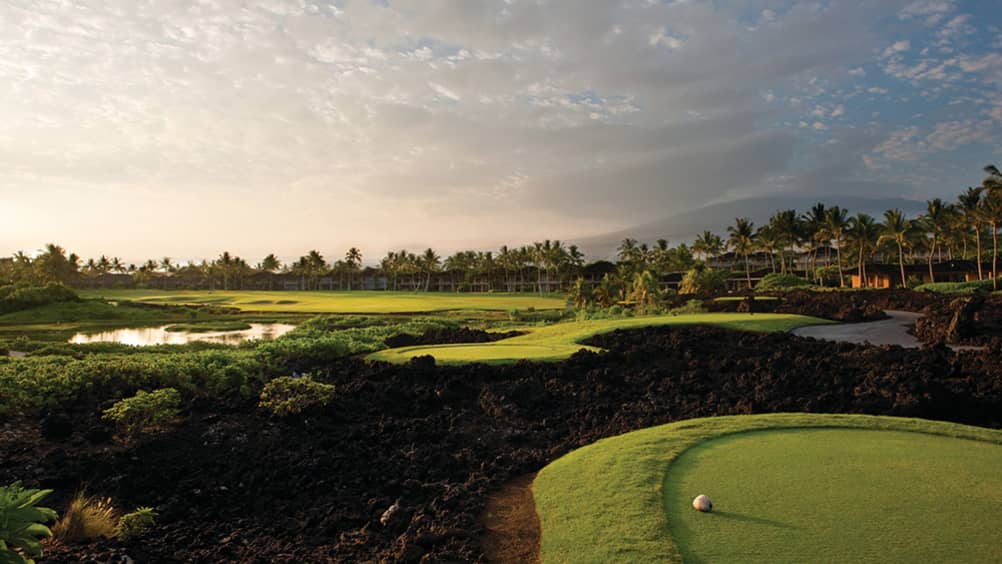 Photography courtesy Four Seasons Hotels and Resorts
Be prepared for the round of your life at the Resort's Hualalai Golf Course, where fairways are threaded through fields of black lava. The Jack Nicklaus–designed course is home to the PGA Champions Tour's season-opening event, the Mitsubishi Electric Championship, and you'll quickly see why the pros love this 7,100-yard (6,492-metre) layout. Two insider tips: The greens have very little grain, so play less break than you might expect; and whatever you do, don't try to retrieve your ball from a lava field—those rocks are razor sharp.
Swim with fish in King's Pond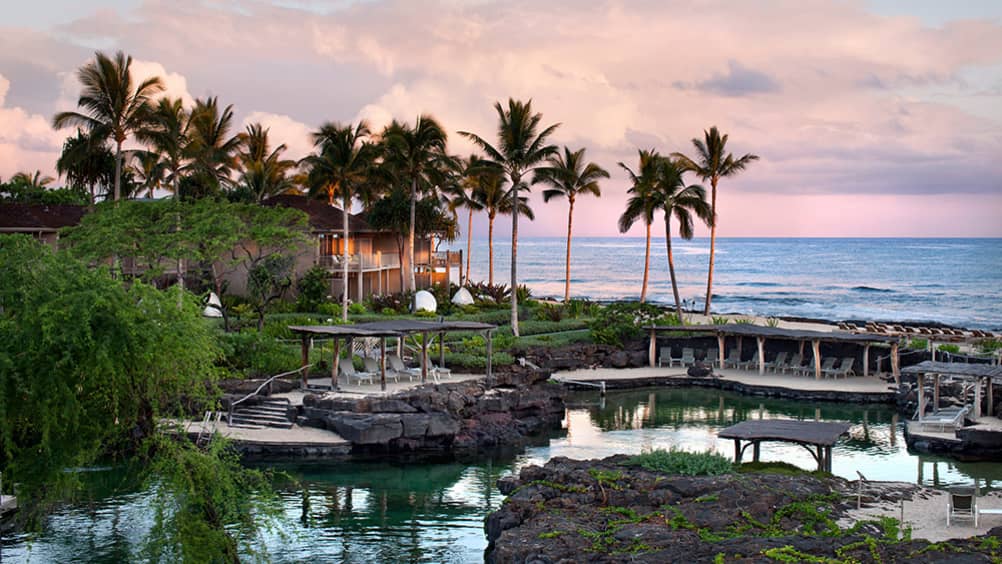 Photography courtesy Four Seasons Hotels and Resorts
Carved out of natural lava rock, King's Pond at the Resort offers guests the chance to swim with more than 4,000 tropical fish, including spotted eagle rays, using complimentary snorkel gear. Fresh mountain water and ocean water are combined through subterranean channels to produce a pool ideal for a refreshing swim. Guests can also participate in hand-feeding the eagle rays Monday through Friday, and children will especially enjoy assisting at the Fish Circus, where they help train colourful fish to perform tricks.
Native treatments at the Spa
After an active day, visit the Resort's Hualalai Spa to enjoy an only-in-Hawaii treatment. The Lomi Lomi massage employs traditional Hawaiian techniques using rhythmic strokes integrating the therapist's forearms and elbows for a full body treatment. Or take in the flavours of the Big Island with the Coffee Mocha Scrub. This indulgent body treatment combines coffee-infused salt, cacao nibs, dried hibiscus flowers and cocoa butter for head-to-toe rejuvenation.
Four Seasons Resort Hualalai