Hours
Every Day

10:00 am – 10:00 pm

Note: The last one-hour appointment is at 9:00 pm.

Nail Bar

10:00 am – 8:00 pm

Note: The last one-hour appointment is at 7:00 pm.
Due to COVID-19, our operating hours are frequently changing per the latest local regulations. For the most updated status, please check our Welcome Back Page.
Favourites
Sleep Well with Four Seasons Hotel Hong Kong

A good night's sleep can leave you feeling supercharged and ready for the day. Four Seasons Hotel Hong Kong introduces the Sleep Well program, featuring a selection of services and amenities that will enhance your stay experience in helping you achieve quality rest and deep sleep.

Details

Focus on your well-being with a stay that includes a range of holistic wellness experiences – from soothing spa treatments to guided meditation, sound therapy and more.

Details

Relax and recharge with our wellness guides every day to calm your mind and soul. Find out our daily offerings from our Wellness Calendar.

Contact us
Spa
Wellness
Sleep Consultation and Meditation

Sleep better with guided Yoga Nidra and a lifestyle consultation to improve sleep quality with Dr. Tania Bardhan.
Tai Chi

Join Master Angela Li in improving balance and circulation.
Chakra Balancing Meditation

Guided meditation to achieve a bigger sense of balance and improve focus with Dr. Tania Bardhan
Vibrational Sound Therapy

Immerse yourself in a vibration therapy private class with our craftsmen, through private or group classes.
Wellness Practitioners
A series of experiences with in-house and visiting wellness experts to help you achieve a more balanced and present state of mind.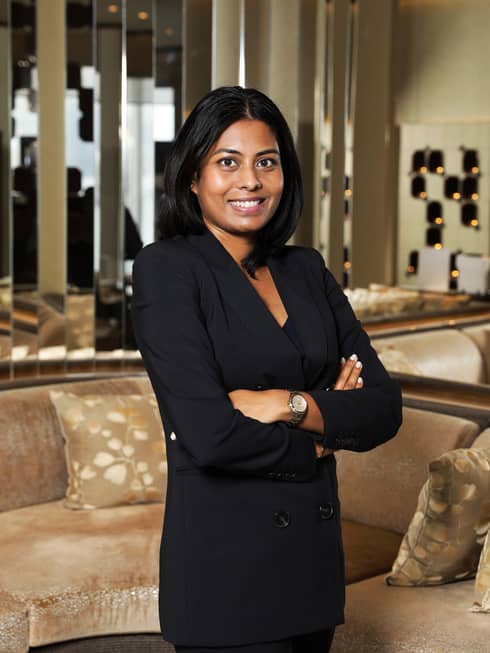 DR. TANIA BARDHAN
Tania is a qualified homeopath, acupuncturist and Reiki therapist with more than 20 years of wellness experience on Yoga, Ayurveda and meditation. She loves to help guests achieve more balance, clear focus, better sleep and manage anxiety using breathwork drawn from Pranayama and meditative techniques like Yoga Nidra and Chakra meditation. She also weaves in wellness consultations on diet and lifestyle with her guests to achieve maximum results.
Fitness
Keeping fit and staying healthy go hand in hand. Our goal is to keep the flow of a healthy lifestyle alive with the most sought-after gym and fitness experts available to ensure your well-being and fitness.

Details
Membership
Journey to our spa and wellness sanctuary with exclusive member's access to the Hotel's well feeling facilities including the Spa, Vitality Lounge, Fitness Centre and Swimming Pool, along with exceptional privileges and discounts.

Contact Us
Offers
Rejuvenate at 15%

For guests visiting us for the first time, receive a complimentary 15% discount voucher to be enjoyed on your next visit.

Refuel your Body

Re-energize your body with a two-hour body treatment including a 90-minute rejuvenating massage and 30-minute body exfoliation. HKD 2,299 + 10%. Valid until April 30, 2021.

The Rose Ritual

De-stress and embark on a sensory journey. The treatment begins with a 15-minute rose cream body wrap, followed by a 75-minute massage treatment to ease stiff muscles. The treatment is complete with a one-hour Subtle Energies facial stimulating marma points. HKD 3,500 +10%. Valid until April 30, 2021.
Create special memories with a loved one through a spa experience in the privacy of your spa suite, complete with its own relaxation bed.

Betterment Simplified – A Curated Retail Space

Discover our spa retail space that offers modern lifestyle products, curated skincare, home décor, loungewear, furniture and jewellery. Featured brands include Four Seasons Hong Kong exclusives, such as Lauren X Khoo, VISO PROJECT, The Grey Men's Skincare, Homeism, Otherware and LARQ.

Take in the ever-changing, 180˚ views of Victoria Harbour as our exceptional therapists transform you from hand to toe.