SPA
Earth-Embracing Scrubs & Wraps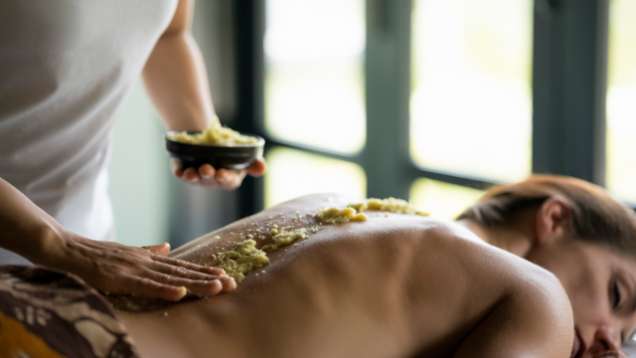 Adreno Scrub & Wrap
Fatigue fighting: for protecting against chronic overload
The hormone-regulating adrenal glands are highly affected by stress. Enhanced by crystal sound, this strengthening therapy uses an adaptogenic scrub and warm abdomen wrap to boost adrenal function.
Nam Hai Scrub & Sound
Earth Nurturing: for a hug of natural goodness
This aromatherapeutic and sound-focused body renewal showcases a nourishing Vietnamese salt scrub with our own seasonal herbs. The 90-minute version includes a deeper 30-minute sound immersion.
Creativity
For Energizing
Energizing Scrub
Cleansing renewal: for revitalizing sluggish bodies
Combining sound healing, ionizing salt crystals, and stimulating lemongrass and geranium, this body renewal eliminates toxins and tensions, leaving skin refreshed and uplifting the mind, body and spirit.
Detoxifying Scrub & Wrap
Rebalancing renewal: for eliminating fluid and cellulite
All of the benefits of the Energising Scrub, intensified by the addition of a mud wrap to draw deeper toxins from the cells, smooth and revitalise the skin, and boost the lymphatic system.
Non-Judgement
For Surrender
Rose Aloe Cooler Wrap
Soothing rehydration: for sensitive or sun-damaged skin
A full body experience that uses cool crystals to soothe sunburn or sensitivity, restoring balance and strength. Features a rose hydrolat mist, rose quartz crystal massage, and rose and aloe vera gel wrap.
Amethyst & Pearl Scrub & Wrap
Dazzling restoration: for a boost of vitality and clarity
Whether you're about to walk down the aisle or need support after a life-changing event, this amazing treatment restores
from deep within, bringing clarity of mind, strength of heart and inner radiance.
Note: According to Vietnamese Law, all pricing must be in Vietnamese Dong (VND). While our rates are quoted in US Dollars (USD) for reference, the actual charges for spa treatments at the Resort will be in Vietnamese Dong (VND) as per the exchange rate on the day of payment.